Baker advisory chooses distance learning Meet options
There are many logistical challenges that go along with moving school online amidst a global pandemic. Sometimes it may seem easy to move away from elements that are crucial to the in-person experience. However, the advisory program is one that has only been emphasized in distance learning. While there is no longer the daily 8 a.m. check-in that usually represents the start of the academic day, advisory has found its place in the online schedule to provide a place for students to unwind and keep connections.
"
It's been really nice to have a chill atmosphere though and a place to talk whenever you want."
— Sam Konstan
Students and teachers have learned since the beginning of distance learning last spring that it is sometimes best when online events are flexible. This approach is one that the Baker advisory has taken. The Baker advisory is made up of only seniors and has adjusted to the move online by making their space a place for students to talk about what they want or simply get some time off screen.
"Distance learning has obviously changed what normal advisory looks like, so our advisory had to adapt to be more flexible […] It's been really nice to have a chill atmosphere though and a place to talk whenever you want," senior Sam Konstan said.
A more flexible approach to advisory has also been helpful due to the stress that arises in the distance learning schedule. A student who has classes in all four periods could see up to six hours in front of their screen in a given day.
"I really like having the option to get a little bit of a break if we need one," Konstan said.
Konstan isn't the only one pleased with the new setup in his advisory.
Senior Anthony Chen said, "Distance learning has been a gift and a curse." Chen continued, "The enhanced freedom to design your day is greatly appreciated and vital to developing our independence, yet the lack of social interaction and absence of unplanned, extraneous activities has definitely taken its toll on our mental wellbeing. I find the Baker advisory has a perfect balance of unstructured conversation and flexibility, and I greatly appreciate all the efforts to preserve our happiness in such difficult times."
Senior Ellie Rosso said, "I appreciate the flexibility that Ms. Baker has given us with distance learning advisory time. She focuses on what we need as students navigating online school whether that means staying on the call and chatting or letting us go early to get a snack and get off the screens for a little bit."
Overall, the flexible atmosphere is one that Rosso, Chen and Konstan believe is the best way to go.
Konstan said, "I definitely think other advisories should consider using this approach."
Leave a Comment
About the Contributors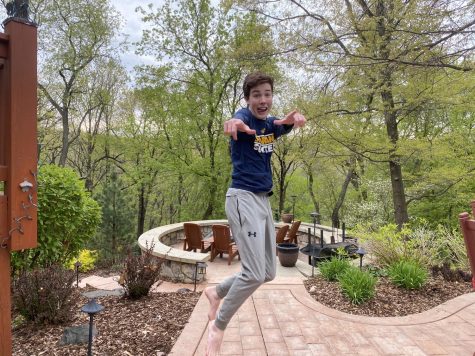 Bobby Verhey, Rubicon TV Executive Producer
Bobby Verhey is the Rubicon TV Executive Producer on RubicOnline. This is his fourth year on staff, previously working as the Sports Editor and Social...
Mimi Huelster, Illustrator
Mimi Huelster is the Illustrator on RubicOnline. This is her second year on staff. While in self-isolation, you can find her drawing, making toast, and...