Cohen celebrates Passover virtually via Zoom call
Every April, Jewish families around the world gather for a Passover Seder to remember the story of the Jews' liberation from Egypt. The holiday symbolizes many things, from the liberation of Jews' escape from persecution, to their tenacity, to an acknowledgment and remembrance of the pain and suffering that Jews and others have faced throughout history, and continue to face. Beyond this, it is a holiday that many families come together for, sometimes traveling across the country or farther to be together. However, in the context of COVID-19, which some Jews have deemed the '11th plague' in addition to the 10 from the traditional Passover story, many families have had to get creative in order to keep the holiday alive. One common course of action has been the 'Zoom Seder.' Senior Libby Cohen's family held a 'Zoom Seder' in early April with extended family.
For Cohen, the holiday is primarily about being with family. "While the meaning of the holiday is very important, it's less of that for me. It's more just family time and getting to see those kind of people in my life," she said.
Passover is usually a time when Cohen's family comes into town to celebrate together. "My mom has two sisters, they each have a family, and so they always fly in town to Minnesota for it, so for me it really represents a time with family and being together," she said. "It's one of my favorite holidays, because it's one of the only times of the year I get to see my cousins and be with my whole family."
However, in light of the pandemic, they, like many Jewish families, have had to alter the way that they celebrate Passover this year.
"
While the meaning of the holiday is very important, it's less of that for me. It's more just family time and getting to see those kind of people in my life."
— senior Libby Cohen
In order to mimic the feel of an in-person seder, Cohen's family carried out a Passover Seder over Zoom. "The word 'seder' means order, and you go through different steps of a meal and… basically, it's very orderly, and takes many hours, and we usually do that in person when they're in town, and so we did it over Zoom, which a lot of families did," she said. "I definitely think it changed the tone of it."
In order to facilitate the 'Zoom Seder,' her family sent their copies of the book used in a Seder, called a Haggadah, out to their extended family. "We hadn't really planned or prepared this year for the changes that we had to make," she said.
Overall, Cohen reported that the ceremony was successful, but different. "It was so fun to see everyone. And it went pretty well, but it was something different and none of us were used to it, obviously."
But the uncertainty around how to celebrate the holiday represents all the more reason to observe it. "I think it's just really important to come together, while that obviously isn't physically coming together, it's virtual. I think it's more important now than ever because the climate of the world… you can't prepare for it… So I think now it's gotten really important to really be grateful for what you have and celebrate the time [you have]with people that you love."
It is customary to end a Seder by saying "Next year in Jerusalem!," a statement that carries many meanings within the Jewish community. This year, it has taken on a more literal meaning with most families' self-isolation at home, though its aspirations remain the same: may the world be in a better place next Passover.
This story was originally published in the April print issue of The Rubicon.
Leave a Comment
About the Contributor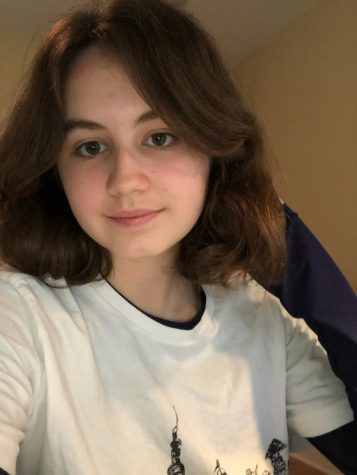 Jenny Ries, Opinion Editor
Jenny Ries is an Opinion Editor on The Rubicon. This is her fourth year on staff. She has been running, writing, and listening to music to stay busy during...