US Choir begins a new measure as Tim Kraack replaces Klus in her retirement
When Tim Kraack transferred to SPA as a seventh-grader in 1999 and joined the Middle School Choir under Anne Klus's instruction, no one could have anticipated the impact this choir program would have on his life and the future students who would filter through it in years to come.
With Klus having declared her retirement in early January and the recent announcement that Kraack will replace her as the Director of Choral Activities next fall, the two of them will experience a full circle mentorship moment. While the news that Klus will no longer serve the role she has had for 34 years was met with grief from her students, much of it was eased by the fact that her replacement is someone they all know and love.
Sophomore Poppy Ploen recalled the choir rehearsal where Klus gave the announcement of her retirement, explaining how everyone responded to the news.
"It was really sad to see how the seniors reacted because they were all really sad … you could tell that she was going to be very missed in the choir community … it was kind of a more somber day," she said.
Senior Annika Brelsford, who has worked with Klus all four years of high school, noted that although they would be leaving SPA with Klus in a sense, the news was still hard to cope with. However, they're excited to see where Kraack takes the choir department.
"I was really relieved when Mr. Kraack was hired for that position, because I think he already knows the school, he already knows the students, and it's just kind of a natural step forward," they said.
Junior Sila Liljedahl pointed out her appreciation for Kraack's teaching style, which choir students will experience even more once he takes on his new position.
"I really like him as a teacher and a person … he knows music just so well, and it really shows in the way he teaches. He's just a really fun person, and he knows how to work with people," she said.
As a budding pianist and singer, Kraack seized every musical opportunity available to him with open arms after joining the SPA community. "I was in middle school choir, and then I was in choir every semester in high school, and I played in the pit orchestras, and I took Music Sem., and I did my senior project with Ms. Klus. So, I did as many things with Ms. Klus as you possibly could as a student," he said.
After graduating in 2005, Kraack's passion for music only grew—he received a piano performance degree from St. Olaf, followed by a piano pedagogy degree from the University of Illinois at Champaign Urbana for graduate school. Despite completing his education at SPA as a student, Kraack's time with the choir program was far from over. He first returned in 2011 to accompany choir concerts on the piano, and just one year later, was hired to help Upper School choir students prepare for the adored Carnegie Hall trip. It was at this point that Kraack began actually teaching the SPA choirs. Just a few years later, during a school year when the middle school choir was especially large, he was hired to assist the alto section and help give the students the individualized attention they needed.
While Kraack hasn't stopped teaching piano since graduate school and originally focussed on piano throughout his college education, his passion has begun to shift towards choral work.
"
It just became this thing where I'd be teaching piano, and you know, when I wasn't teaching piano, I was thinking about choir and thinking about musicals and thinking about SPA. And as it became a bigger part of my life, it also just took up a bigger portion of my brain.
— Tim Kraack
"It just became this thing where I'd be teaching piano, and you know, when I wasn't teaching piano, I was thinking about choir and thinking about musicals and thinking about SPA. And as it became a bigger part of my life, it also just took up a bigger portion of my brain," he said. Not only does he love the experience of classroom teaching, but he loves the students and faculty at SPA specifically. "Everything just kept drawing me back here," Kraack said.
As Kraack steps into a larger role, the name of the game is featuring students: their music taste, their composed work, and their voices. He explained that currently, the annual Pops Concert is at the forefront of his mind because it will be the first concert he takes on as Choir Director.
"I want to reframe it as doing music that's from now—that's contemporary—and showing parents and the community what modern music sounds like, and what can be accessible and enjoyable about it," Kraack said.
Some of Kraack's additional aspirations include working on music production with students, increasing the number of student-accompanied concerts, and in general, providing outlets for student creativity.
Despite the bittersweet nature of Klus's goodbye, both Klus and Kraack are thrilled for the next chapter in the SPA choir program.
"I love to tell our choirs that I taught Mr. Kraack everything he knows, and that is so not true. Mr. Kraack is an incredibly talented, energetic musician and teacher who has a great innate sense and knowledge of music, and passion as to what it takes to make singers great. I am so happy to 'pass the torch' on to Mr. Kraack," Klus said.
Leave a Comment
About the Contributor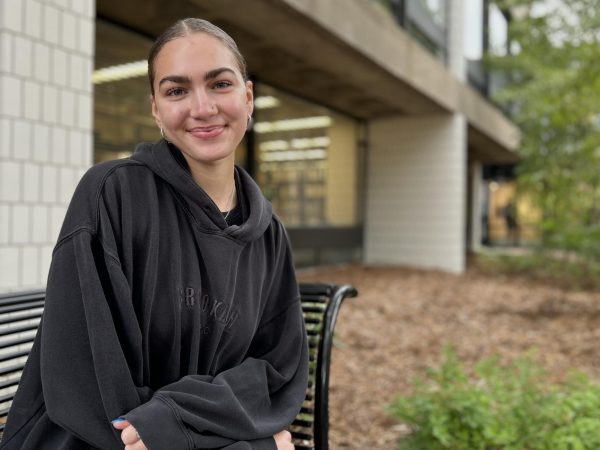 Clara McKoy, Director of The Rubicon Online
My name is Clara McKoy (she/her). I'm the director of The Rubicon Online. At school, I'm involved in Community Action and Service Club and Senior...