Anne Klus leaves a meaningful legacy behind as she prepares for retirement
"Planning a concert program is like planning a big banquet. You have to have the appetizers, the 'meat and potatoes' and then finish with dessert."
These are the words of Director of Choral Activities Anne Klus who has planned over 68 "banquets" in her 34 years at SPA. Klus announced her retirement earlier this month.
When Klus first joined the community, the Academy Chorale started with only seven students. Since then, Klus has helped to grow the middle and upper school choirs to a group of over 170 singers. In teaching each individual, Klus's philosophy focuses on the process and the memories students create as they unite over their love of music. The time and effort put into the process and rehearsals — from learning the music to performing for an audience — are much more important and cherished than the performance itself.
"The end product is important but the journey there, working with the students who are excited about making music, is so satisfying," Klus said.
Klus has a unique style of teaching in which she drives her students forward with passion, humor, support and understanding. She has always believed in accepting nothing but the students' best efforts while keeping students having fun as they engage with music.
"Ms. Klus cares first and foremost for the happiness of her students," MS Choir Assistant Director Tim Kraack said. "She wants every student to come away from rehearsals with a love of singing and music, and will often bend over backward to make something work for them."
Klus tries her best to embed as many solos as possible into a song so every student can have the opportunity of being heard in their own way. Senior Emily Gisser said, "I sang my first solo in high school choir… only after Klus really encouraged me to try out for it, and I think that piece really changed the way I saw myself as a singer."
"
The enthusiasm she puts into her work in the classroom and on stage reaches more than just the choir members."
— Cayenne Ramirez
While she strives to give each singer in the choir a time to let their talents shine, Klus also finds ways to engage other members of the community. During the spring, Klus organizes a group of Community Chorale singers for anyone with a connection to the school: parents, alumni, SPA family friends, and neighbors.
Every year, Klus also offers independent studies outside of school for those who love singing but cannot fit it into their academic schedules: "The enthusiasm she puts into her work in the classroom and on stage reaches more than just the choir members," junior Cayenne Ramirez said.
Many alumni have also carried their memories with Klus into their adult lives after graduation. Kraack said, "Ms. Klus was my first choir director, and after coming back as a professional musician to work with her, she provided a lot of mentorships as I continued my growth as a teacher and director. As far as my development as a musician, I can trace it back specifically to our performance of Mozart's Requiem when I was in 8th grade in 2000. I joined the community choir with my parents and became obsessed with the Requiem. It helped spark my love of classical music and played a big role in my decision to study music in college and become a professional musician."
Her positivity and encouragement continue to resonate with recent graduates as well. Ananya Narayan ('20) said, "Walking into the choir room and instantly feeling at home and safe was my favorite part of the day."
Having spent nearly seven years with Klus, Gracie Tilney Kaemmer ('21) said, "She was one of my biggest musical influences, and I'll always be so grateful to her."
Just as many community members will treasure their memories of Klus, she has many of her own over the course of more than three decades. One of Klus's favorite memories with the choir was the experience at Carnegie Hall in 2018 where 150 singers across Academy Chorale, Summit Singers, and Community Chorale performed together.
"The applause was deafening – and it wasn't just for me – it was for all of those singers. That was truly a magical moment I will never forget," Klus paused, then added: "Also, standing on the conducting podium that Tchaikovsky, Stravinsky, and Bernstein conducted from, it was also a very humbling moment."
In retirement, Klus will continue to seek opportunities to mentor young choir directors and get involved again with her professional musical organizations, including adjudicating at state music contests. Klus wishes to motivate young directors and achieve other ambitions for their school systems.
She will also continue her passion for gardening and cooking as a hobby.
Looking back at the time here, "I wouldn't change a thing throughout all of the years I have taught at SPA. What is most important is to continue to have the freedom and opportunity to practice our art, and grow in life-long musical expression, understanding, and community pride," Klus said.
Klus' final concerts will take place this spring, with the US Spring Vocal and Orchestral Concert with the Community Chorale on Apr. 23, the US Musical May 13-15, and the MS Performance Showcase May 19.
Listen to Klus' top 20 songs she has arranged and directed with the SPA Choirs on Spotify:
Leave a Comment
About the Contributor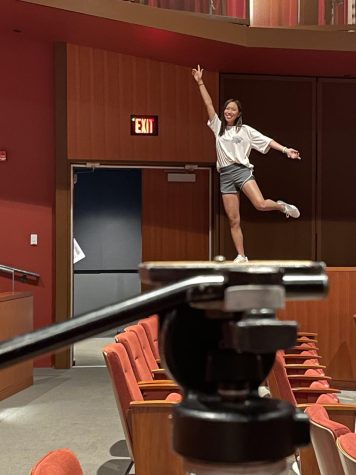 Rita Li, Feature Editor
Hey! I use she/her pronouns, and this is my second year on staff. I was a Podcast Editor (2021-2023) and am currently a co-editor for the Feature section...