[WHAT'S IN MY BAG] Thompson's backpack holds the unexpected
Junior Gabriella Thompson relies on a myriad of things to get her through the day. She carries her school bag, which carries all of her most valuable items, with her everywhere: not just to and from school. 
A tennis ball. As a tennis player, Thompson takes it out to bounce or fidget with when she's bored. "It is comforting to have something that I like with me at all times." 
Water bottles. With a passion for being hydrated, Thompson carries not one, but two water bottles with her in her backpack.
Calculator. She has a rose gold calculator that her father bought for her. 
Apple. It's never a bad time to have a snack… but maybe not this one. Thompson has a forgotten apple that is slightly moldy in her bag.
Tea bags. One of Thompson's water bottles in exclusively for hot beverages, such as tea.
Tissues. Lots and lots of them.
Sunglasses. Even though it's starting to get cold. "I love the sun."
Hoops earrings. What girl goes without her hoops?
Chap-stick is important, especially during this season- because she does not want to be crusty. 
Bus card. Many of St. Paul Academy & Summit School's students carry a bus card with them.
Keys.  
Money. "Money Money Money, isn't it funny in a rich man's world." 
Mascara. "All I need in life is tea, mascara … and the sun." 
Menstruation products. "Sometimes it's my time of month and I have to be prepared. 
Pencil case. She would be lost without her pencil case. 
School supplies… it's a backpack.
Hair bands. She has hair bands for when she has a bad hair day. 
Thompson is the one to ask if you need something: her backpack is stuffed with things to make her feel happy and to help others.
Leave a Comment
About the Contributor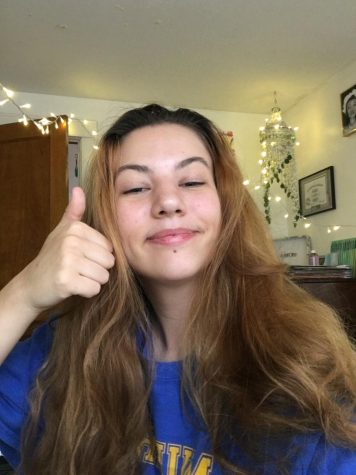 Tana Ososki, A&E Editor
Tana Ososki is an Art and Entertainment Editor at RubicOnline. During her free time she enjoys painting and spending time with her family and friends....