[WHAT'S IN MY BAG] Ellie Dawson-Moore carries small items with big purpose
This small display of items is what Ellie needs for her entire day of school on even days. This is all that can be found in her backpack but everything has a purpose.
Earbuds: "I love music so I always need to have some earbuds on me, and an extra pair can never hurt."
A bunch of chapstick: its the winter it is dry and cold, everyone needs chapstick.
Computer: "We are at school we need our computer for basically every class. And look at all my stickers!"
Makeup: "Sometimes you got to freshen up, it's good to have some handy."
Wallet: Everyone needs a wallet, mine has my ID's.
Cash: "Just in case I need something to eat during the day."
Bible: "I am a Christian so it is nice to have my bible with me during the day."
Notebooks: "One of them (the green one) is completely recycled paper and its durable, and then the pink one is where a put most of my reminders of homework I need to do and stuff like that."
Phone: "I always have my phone on me, if I'm bored I can use it or if I want to call a friend."
Leave a Comment
About the Contributor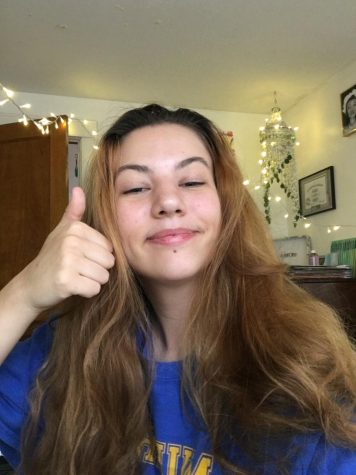 Tana Ososki, A&E Editor
Tana Ososki is an Art and Entertainment Editor at RubicOnline. During her free time she enjoys painting and spending time with her family and friends....