[ALBUM REVIEW] New BROCKHAMPTON album proves strength
If you haven't heard of BROCKHAMPTON, a six-member boy band based in Los Angeles, chances are you will soon. After dropping the SATURATION trilogy, a collection of three albums, within six months at the end of 2017, the band began to gain attention all over social media. At the beginning of 2018, after signing with RCA, there were rumors about two new albums Puppy and Team Effort. The group even released Team Effort merch and possible Puppy cover art, but both albums were ultimately never released most likely due to core member Ameer Vann being kicked out due to allegations of sexual assault. Despite this setback, the band has proved that they are back and better than ever with their latest release; iridescence.
August was a crazy month for BROCKHAMPTON; from releasing tour dates to announcing their documentary "The Longest Summer in America." After merch drops every day of the week leading up to the release, the album is finally out.
From beginning to end, iridescence is a musical journey where BROCKHAMPTON shows just how versatile they really are. Throughout the album, there are a lot of songs that feature strings, which the band has only really done before on the SATURATION II opener "GUMMY." "SAN MARCOS" stands out as one of the bands most versatile songs to date. The beginning of the song has a very slow beat with guitar, similar to "MILK" from SATURATION I, then transitions to a verse from Bearface over acoustic guitar. Towards the end of the song, the London Community Gospel Choir makes an appearance, and the song ends on a guitar ballad-like note. "TONYA" which the group debuted on Jimmy Fallon in June, also stands out as a very unique track for the band. The track begins with a simple piano melody, leading into some of the rawest verses on the album. Leading member Kevin Abstract raps about ex-member Ameer Vann, "I've been in my feelings on an island in the dirt. I feel like brothers lie just so my feelings don't get hurt," and Dom Mclennon and Merlyn Wood give emotional verses about their families.
Despite Kevin Abstract tweeting before the album was released that the album would be very different from the SATURATION trilogy, there are still a few songs that resemble favorites from the trilogy. "NEW ORLEANS" and "J'OUVERT" give off a similar sound to "HEAT" and "BUMP" from SATURATION I and feature great verses from Joba as well as a feature from Jaden Smith on "NEW ORLEANS." As in previous albums, throughout iridescence, the transitions between songs are phenomenal. Most notably is the transition from "NEW ORLEANS" to "THUG LIFE." "SOMETHING ABOUT HIM" is one of the weaker tracks. It features Kevin Abstract with altered pitch, something we saw a lot of on SATURATION I and II. While the track isn't bad, it feels like more of a filler track and doesn't add anything new or interesting to the album. Regardless, having only one bad track on a 16 track album is not at all bad.
BROCKHAMPTON is coming to The Armory in Minneapolis on October 30th.
About the Contributor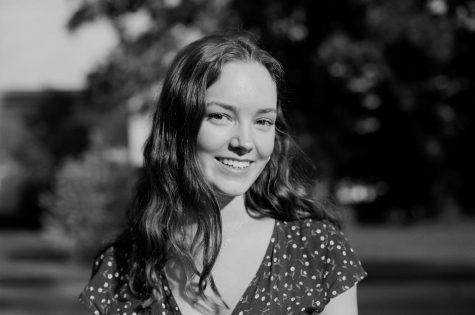 Liv Larsen, Feature Editor
Liv Larsen is a Feature editor on RubicOnline. This is her fourth year on staff. She has been staying busy during the pandemic by watching (too many) movies,...