Week one of the German exchange: komplett
Every other year, Heisenberg Gymnasium in Hamburg, Germany sends students to visit St. Paul Academy and Summit School for a little over two weeks. This year, the students came on Sept. 22 and are departing on Oct.7, spending two and a half weeks on the SPA Upper School campus. Unlike the other exchanges, the students have spent most of the first week shadowing their host student and visiting a full schedule of classes, seeing what the regular school life is like at SPA.
What's special about this visit is that the first half of it takes place during Homecoming week, a prime time for the grounds of SPA, where students take their school spirit to maximum levels and participate in fun activities.
German exchange student Josephine Harms has enjoyed visiting all of the classes her correspondent takes; "We're staying here for two and a half weeks, and I'm pretty excited to see the school because that's where we do the first week; we just follow our exchange partner around the school. It's pretty cool because it's homecoming week and we can dress up, and I didn't know what it is because we don't have it in Germany. It's very exciting. The second week we make trips around St. Paul and Minnesota, and I'm pretty excited about it too because I don't know much of the city. I've been to New York before, but it's kind of different. I like the streets; they're so long and straight. There are so many small stores; I like them," Harms said.
"
It's pretty cool because it's homecoming week and we can dress up, and I didn't know what it is because we don't have it Germany. It's very exciting."
— exchange student Josephine Harms
Next week, the students will be doing activities in SPA still; there are opportunities for them to visit the Design Lab, attend Senior Speeches, and visit German classes. They are also visiting a public school in the St. Paul area: Como Park Senior High, and touring St. Paul, Fort Snelling, Minneapolis, and going on a canoe tour on the St. Croix River.
To welcome the exchange students, there are posters around the school, and coincidentally, the Homecoming dance is at the Germanic American Institute.
The students will depart on Monday, Oct. 7 after a two and a half week-long visit. Those who are hosting a student from Germany plan to be their guest in the middle of March; when spring break arrives.
"Komplett" is "complete" in German.
About the Contributor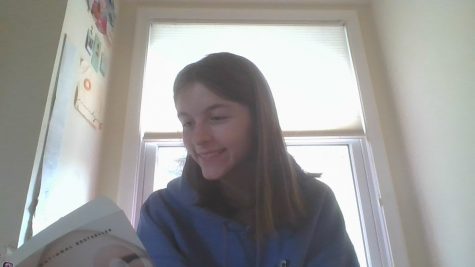 Lynn Reynolds, Opinion Editor
Lynn is the Opinion Editor on RubicOnline. This is her third year on staff. Lynn has kept herself busy during the pandemic by reading and biking a lot....