Phoebe Waller-Bridge and Donald Glover to star in "Mr. & Mrs. Smith" reboot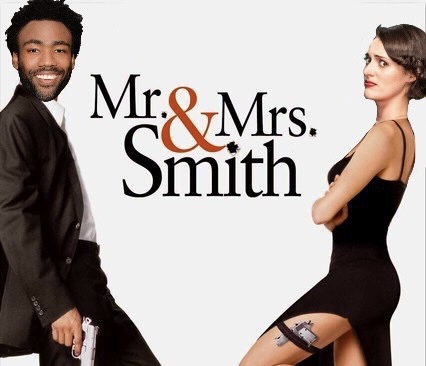 On February 12, actor and writer Donald Glover took to Instagram to announce the television reboot of the movie Mr. and Mrs. Smith. The film was initially released in 2005 and starred Brad Pitt and Angelina Jolie, who famously claimed to have fallen in love on the set of the movie.
"
Needless to say, expectations for the upcoming series are high."
Glover, also known as Childish Gambino in his music career and creator of the show Atlanta, will star next to critically acclaimed actress and writer Phoebe Waller-Bridge, most famously known for her semi-biographical series Fleabag. Both Glover and Waller-Bridge have worked together before, too, on the set of Solo: A Star Wars Story with Glover as a young Lando Calrissian and Waller-Bridge as the voice of the droid L3-37. Francesca Sloan, a writer and producer on the television adaptation of the Coen Brothers' Fargo, is also listed as a co-creator.
The original Mr. and Mrs. Smith entails a young married couple who, due to a lack of communication, gradually discover that they are each working for competing spy agencies. Written by Simon Kinberg and directed by Doug Liman, the movie made nearly half a billion dollars worldwide at the box office. Needless to say, expectations for the upcoming series are high.
"Donald and Phoebe are two of the most talented creators and performers in the world," said Jennifer Salke, head of Amazon Studios which will be producing and distributing the show. "It's truly a dream for us, as it will be for our global audience, to have these two forces of nature collaborating as a powerhouse creative team."
The television version of Mr. and Mrs. Smith will be released on Amazon Prime next year, in 2022.
About the Contributor
Mimi Huelster, Illustrator
Mimi Huelster is the Illustrator on RubicOnline. This is her second year on staff. While in self-isolation, you can find her drawing, making toast, and...