Scouting shapes participants beyond cookies, camping, and badges
Students relive childhood experiences and engage in community service as Girl and Boy Scouts
Which organizations teach young children both how to survive in the wilderness and how to manage money? How to work well with others and how to shine as a leader? Boy and Girl Scouts of America teaches all of these skills, and many more.
Some of the values both organizations intend to promote are respect, integrity, confidence, and strength.
Although most well known for their famous cookies, being a Girl Scout is about much more than that. Starting as young as kindergarten, Girl Scouts is an organization for female youth that promotes character values and community service.
The Boy Scout organization stresses the importance of being trustworthy, helpful, courteous and brave. Both organizations offer many opportunities and skills for scout members.
The beginning
"I knew I always wanted to become a Boy Scout," junior Tommy Monserud said. Monserud was influenced by his older brother, Andy Monserud ('13). He started out as a Cub Scout during elementary school and in middle school he became a Boy Scout.
Junior Dalante Peyton was first intrigued by the Boy Scout organization while on a camping trip with a friend. "It seemed really interesting and offered a lot of opportunities for me," Peyton said.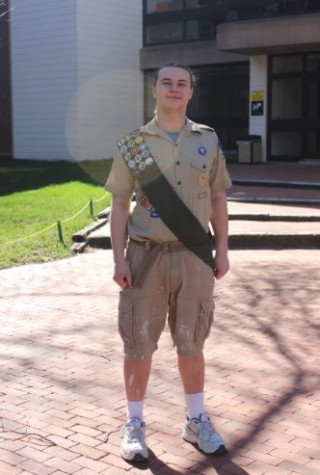 Experience
Scouting can also be a way for young girls to make new friends. Troop members take part in many activities together, including exploring the outdoors and selling cookies. It can be a good opportunity for girls to meet new people outside of their school community.
"I've been in Girl Scouts since kindergarten. I started to make new friends, and also because some girls I was already friends with were doing it," sophomore Kathryn Schmechel said.
As a Cub Scout, Monserud was able to explore different jobs and opportunities while also enjoying a sense of competition with events such as Pinewood Derby. The Pinewood Derby is an event where Boy Scouts design racing vehicles and compete with other Boy Scout troops. Upon entering Middle School, Cub Scouts officially become Boy Scouts. The ages of Boy Scout members range from 10 and 18.
Ranks
The Boy Scout Program has many ranks of its members considering the range of ages. Listed in increasing order, the ranks in the Boy Scout program are: Emblems, Scout, Tenderfoot, Second Class, First Class, Star, Life, and Eagle. Currently Monserud and Peyton are working on acquiring their Eagle Scout badges.
Girl Scouts start out as Daisies (K-1), then move up the ranks to Brownies (2-3), Juniors (4-5), Cadettes (6-8), Seniors (9-10), and finally Ambassadors (11-12). Girls can join at any age from their kindergarten to senior year, and after graduating high school scouts can join the Girl Scout Alumnae Association, which allows girls to form a lifelong relationship with the Girl Scout program.
Girl Scouts actively participate in community service. This year, scouts have worked with Feeding the Need and the GoodStuff Donations, which recycles used clothing.
"My favorite part of Girl Scouts is selling cookies, and also being active in my community," Schmechel said.
The Girl Scout Cookie Program encourages scouts to sell cookies to people in their community in order to teach girls valuable lessons such as money management and the people skills that come from selling a product. The profits from sales help subsidize the Girl Scout program and keep the cost of the program affordable.
Leadership
Boy Scouts have the opportunity to take leadership positions with their troops. Junior Dalante Peyton has served as Patrol Leader, Scribe, and is currently Troop Guide within his troop, Troop 45. Monserud has similarly taken the leadership role of Patrol Leader, and in the next election Monserud hopes to become Senior Patrol Leader.
The role and responsibility of Patrol Leader is to set a good example for younger scouts, plan and lead patrol meetings, and to be fair to everyone. "The Patrol Leader's job is to make sure that everyone follows the correct procedures and make sure that everything runs smoothly," Peyton said.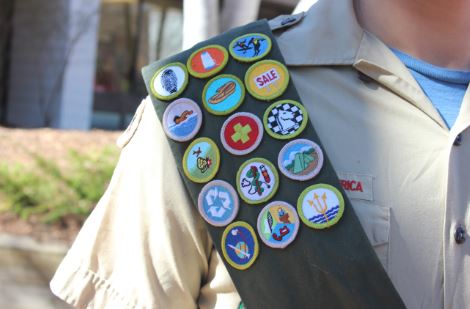 Earning Badges
Badges are another essential part of both the Girl and Boy Scout experience. Boy Scouts earn badges/awards for contributing to the community, being prepared to help in emergency situations, and recognizing the environmental effects of humans. "It's pretty fun. I have a really tight-knit group," Monserud said. Monserud and his troop often go on camping where the boys cook their own food, survive in the wild, and of course, play with fire. On these trips it is important for Boy Scouts to follow the principles titled Leave No Trace, meaning that all resources used in a campsite should be used wisely.
Girls earn badges based on accomplishments in specific areas, such as outdoor awareness, technology, and global citizenship.
"The badge system varies, but basically there are certain tasks you can do and once you accomplish them, you earn a badge," Schmechel said. "Earning badges is very rewarding."
"We haven't done badges in a while, which I miss," sophomore Samantha Bluhm said. "My favorite badge is from one year ago when we did a nightwalk at camp, at one o'clock in the morning, with the stars and everything. It was really pretty."
In addition to earning badges, Girl Scouts work towards earning a series of three awards — bronze, silver, and gold- which focus on helping and solving issues in the community. Only high school age scouts can earn the gold award, and it is the highest award a Girl Scout can earn. Established in 1916, examples of past gold award projects include organizing pet adoption events, leading a team that preserves environmental resources, and establishing an elementary student music mentorship program.
Memories and Lessons
Those who participate in Girl Scouts agree that they have made lasting memories. Some fond memories for current Girl Scouts include the many ceremonies they have take part in.
"My favorite memory of Girl Scouts is when we were transitioning from Daisies to Brownies, and we had to cross over a bouquet of daisies. I still have a picture of me during the ceremony," Bluhm said.
Schmechel agrees that the ceremonies that signify the transition from one level of scouting to the next are one of the most rewarding parts of Girl Scouts.
"My favorite memory of [being in] girl scouts is of when I was in elementary school, and we had to cross over this river they set up to symbolize our transition over to the next level," Schmechel said.
The lessons scouts learn are also not easily forgotten. As Bluhm said, "[Girl Scouts] taught me a lot about community service and how there's always something you can do to help someone, even when it doesn't seem that way."
About the Contributors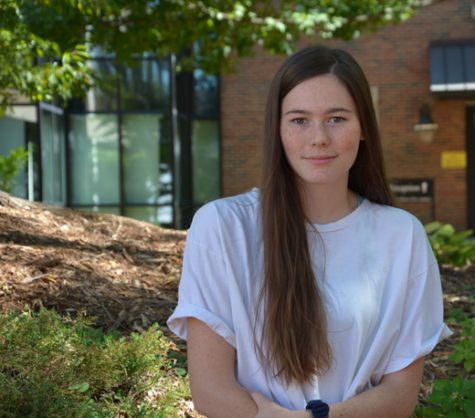 Mari Knudson, Graphics Editor / Aureus Asst. EIC
Mari Knudson is a senior member of the staff, a dedicated student athlete, and the Graphics Editor for The Rubicon this year. She is also Assistant EIC...
Gitanjali Raman, Online Managing Editor
Gitanjali Raman is a member of the senior class at St. Paul Academy and Summit School. Gitanjali is currently Online Managing Editor, and has served in...