Judah Thomas uses Instagram to create Spartan Spirit as fans return to games
After over a year without fans at games, Spartans are starting to gain their school spirit back by getting more fans at every game. This has supported student-athletes as they represent their school while playing the sports they love. Senior Judah Thomas created the Instagram account @spartanspirit21, nicknamed Skooter the spartan, to try and create more school spirit surrounding athletics.
Thomas created the account in early September as sports were starting with the purpose of creating more excitement and spirit around each game. "As a senior I feel like we have to lead this stuff now, and this is a way to get more people excited about our teams this year," said Thomas. Since seniors are the only grade to have fully experienced a year without COVID-19, it is important that they lead everyone as they help to rebuild the SPA community.
When creating these posts, Thomas puts a lot of his time into the account, as he does all of the research and design himself. Thomas said, "I go through the teams Instagram pages and the [SPA] website so I find their game schedules, then I text people on the teams about results and ask for pictures and stuff I can use for the account," Running this account takes a lot of effort, as he tries to build students spartan spirit. Thomas went on to say, "It's like a full time job since I average like one to two posts a day."
"
As a senior I feel like we have to lead this stuff now, and this is a way to get more people excited about our teams this year"
— Judah Thomas
While this may seem like a lot of work, students appreciate the effort as they have been coming to more games. "One thing that has happened is that people are interested, and they actually care what's going on with their sports teams. I hope that people will talk to each other in the hallways about how the teams are doing or a video that I posted, or some game they want to go to" said Thomas. He hopes that his posts will create a buzz around every game so students will be interested in these school events.
Thomas is just getting started with this account, as it keeps growing and creating more spartan spirit, make sure to check out the page next week as homecoming events are coming up starting on Monday, Sept. 27.
Leave a Comment
About the Contributor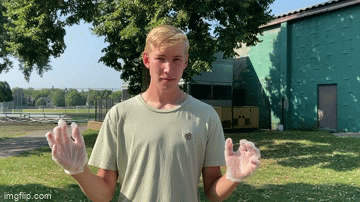 Zekiah Juliusson, Opinions Editor
Zekiah Juliusson is the Opinions Editor of Rubiconline and this will be his 4th year on staff. Over the summer he took a fun boundary waters trip and played...