[GOOD FOR YOU] Are AirPods a threat to our well-being?
As the years pass and we start to use more and more technology, AirPods have become somewhat of a cultural norm. The predicament for 2019 was that Apple would sell 10 to 12 billion dollars worth of the convenient Bluetooth headphones.
But are they really that convenient? Sure, you don't have to worry about tangled earbuds, or them falling out of your ears when the wire gets caught on something, but many people are wary of the potential impacts they can have environmentally or on your brain and ears.
In fact, junior Theo Moen is a recent converter from the life with AirPods back to a life with the standard wired earbuds. "As I used [AirPods] more and more, the sound quality went down for sure. They also would have a really faint high frequency noise, which made my ears ring at times. I stopped using them and went back to traditional earbuds because they made my ears feel better," he said.
"
I stopped using [AirPods] and went back to traditional earbuds because they made my ears feel better."
— junior Theo Moen
Like Moen, people have become alarmed at the risks AirPods pose to your ears. Many people believe that they can cause cancer, because of the constant EMF (Electromagnetic Field) radiation. "I have heard people talk about the research, and I could imagine that they are bad, especially if they wear it down overtime. People tend to listen to music louder which hurts your ears more- all the Bluetooth that has to go into it opposed to wires they could probably hurt them," Moen said.
As an avid AirPod user myself, I'm starting to wonder whether my purchase was the best decision. Although many scientists are unsure about the threats AirPods pose on this generation of addicted tech users, they are surely something to avoid from a health point of view.
About the Contributor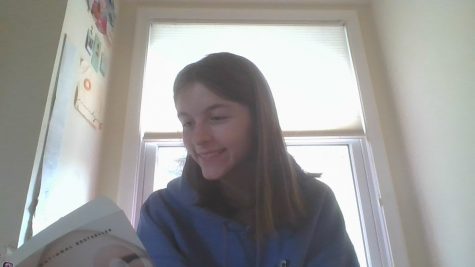 Lynn Reynolds, Opinion Editor
Lynn is the Opinion Editor on RubicOnline. This is her third year on staff. Lynn has kept herself busy during the pandemic by reading and biking a lot....