[FILTERED] Final Four Edition
The NCAA men's basketball tournament can often bring the most unlikely into the spotlight. Whether it be a big rebound from a walkon or a three from a star, the tournament brings student-athletes who work all season into the mainstream. But what about the people that help the players succeed? What about the sacrifices that family, friends, teammates, and coaches have made? Often times this is not seen by the public and not acknowledged. However, on Final Four Friday, players answered who they think is their biggest supporter; whether it be as their journey as a player, and as a human being.
Auburn Forward Cole Blackstock is a redshirted senior who earned a scholarship midway through the season after a win against Georgia. Blackstock was a finalist for the NCAA Elite 90, an award that celebrates athletes who are at the top of their game in the classroom and on the court. So, who was the biggest supporter on his journey? "It is probably between my parents and my girlfriend," Blackstock said, "They've all been there through the toughness and the good, so it's hard to pick."
On the same night that Blackstock was awarded a scholarship, junior Forward Will McCoy was also awarded one. McCoy said, "[My biggest supporter] definitely is my mom." On the night that the scholarships were given out. Although they have been role players for the majority of their careers, Auburn coach Bruce Pearl said, "I'm happy Auburn was able to reward a couple really great Auburn men."
As for Auburn's path to the championship, hibachi and Juniors Danjel Purifoy and Jared Harper have played vital roles on the journey. Harper said, "My biggest supporter would be either my brother, my mom, or my dad." Harper scored 26 points in Auburn's upset win over Kentucky in the Elite 8.
"My biggest supporter would definitely be my mom," Purifoy said. Purifoy made headlines last week after calling out Kentucky supporters for a distasteful sign of Auburn star Chuma Okeke, who tore his ACL against North Carolina in the sweet 16.
Without Okeke however, Auburn was able to power through to the Final Four. Purifoy said in an Instagram comment, "Disrespectful but I got some for y'all Kentucky fans." Purifoy played 36 minutes getting seven rebounds against the talented Kentucky bigs.
WOW! 😳

Kyle Guy sinks all 3 free-throws to lift @UVAMensHoops over the Tigers for the win and a trip to the #NationalChampionship#FinalFour pic.twitter.com/o8ZWNB3FBh

— NCAA March Madness (@marchmadness) April 7, 2019
Auburn led late in their semifinal game against Virginia and had a two-point lead with less than a second left. However, senior Guard, Virginia star Kyle Guy was fouled on a three-pointer and proceeded to hit three free throws for the win to advance to the championship.
In the other game, #3 Texas Tech took on #2 Michigan State, with the latter coming off a big upset over the tournament favorite Duke. Michigan State Forward Kenny Goins said, "[My biggest supporter] probably would be my family, my family has been there through thick and thin […] They've come to every home game I can remember."
"
[My biggest supporter] probably would be my family, my family has been there through thick and thin"
— Michigan State Forward Kenny Goins
Although Goins did not score, he led the team with eight rebounds against Texas Tech; however, it was not enough as the Red Raiders defense strangled Michigan State's offense in a 61-51 win. The Red Raiders were led by Matt Mooney who scored 22 points shooting 50% from the field and advanced to play Virginia on Monday.
The championship was a back and forth affair. However, teams scored in very different ways. Virginia relied on their starters and their three-point shooting, while Texas Tech spread out their scoring with five players in double figures, including two bench player.
One Shining Moment. #MarchMadness pic.twitter.com/xu6Z7m6Mgy

— NCAA March Madness (@marchmadness) April 9, 2019
Freshman Guard Kyler Edwards was one of the bench players that had a large impact on the game scoring 12 points in just 23 minutes, shooting an impressive 80% from the field. Edwards said, "My mom is my biggest supporter."
Despite the scoring from the bench for Texas Tech, Virginia showed up when it mattered most winning in overtime 85-77 to take the National Championship, bringing an end to March Madness and Final Four weekend.
In a weekend where all eyes were on the student-athletes, their support system can often go unnoticed. However, every once in a while, the players can look back and bring the ones that helped get them there into the spotlight.
For more Snapchat FILTERED stories, click here.
Leave a Comment
About the Contributor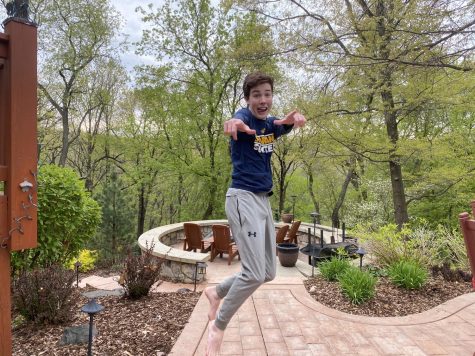 Bobby Verhey, Rubicon TV Executive Producer
Bobby Verhey is the Rubicon TV Executive Producer on RubicOnline. This is his fourth year on staff, previously working as the Sports Editor and Social...