Engaging their inner kid: for nannies, work is fun
Imagine a job where children's stories are appreciated as fine literature, cartoons are acceptable to watch, and animal crackers are a delicacy. For seniors Emma Truman, Libby Woodson, and Rahul Dev, this job is their reality. As student nannies, they experience the pros and cons of childcare.
"I started nannying for this particular family earlier this school year," Woodson said.
"I started nannying a few months ago, but I already have a nannying job set up for the entire summer, and I am genuinely excited," Dev said.
Getting into the business at the start of school is a convenient time to start because child's school schedule aligns with the student's. There are many benefits of nannying, and the ones that immediately come to the nannies mind's are the kids themselves.  
"It's super interactive, and kids are really fun to be around. Also, most nannies don't pay taxes, so you make a lot of money," Truman said.
"Nannying is an extremely fun job in my experience. As someone who loves hanging out with kids, it is a relaxing yet engaging setting that allows you to really be yourself. I enjoy playing sports with the kids that I nanny because I think it is really important to keep them active after the school day, especially when they are young," Dev said.
"
I enjoy playing sports with the kids that I nanny because I think it is really important to keep them active"
— Rahul Dev
Hanging around, having fun with, and taking care of the kids bring enjoyment to the nannies. But being a nanny is not all fun, games, and creativity; there are some serious drawbacks to being a nanny as well.
"Sometimes the hours can be really long. Working from 7:30 until four or five can be exhausting, depending on who you're nannying," Truman said.
"The only drawback I would say there is to being a nanny is sometimes kids don't like to obey rules. I know I have had countless times where I've had to sit there for almost an hour waiting for them to stop being stubborn and do their homework. However, the experience is priceless and I would absolutely recommend it," Dev.
Every job has its drawbacks, but that does not stop the nannies from recommending the job depending on a person's preferences. Truman and Woodson recommend the job as long as one likes kids.
"I would totally recommend it if you like kids because it's super easy, and kids are cute," Woodson said.
"I would recommend it if you like kids, and being creative. As a summer nanny, I try to think of fun activities everyday that the kids can do. It takes a lot of effort and creativity to keep kids entertained for 8-plus hours a day," Truman said.
Summer nannying is different than nannying during the school year, but balancing school life and nannying does not seem to be a problem for Truman, Dev, and Woodson because they know how to separate the aspects of their lives, so they do not get overwhelmed.
"I usually babysit during the school year, so I don't have to balance it," Truman said.
But for Woodson, nannying has become part of her school year: "I work right after school, so I just do homework after I get home," she said.
About the Contributor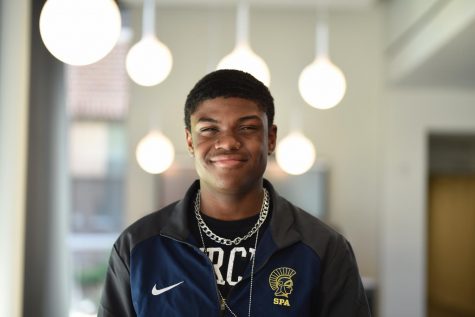 Tristan Hitchens-Brookins, Podcast Editor
Tristan Hitchens-Brookins is one of the members of the Interactive Storytelling Team at RubicOnline. This is his third year on staff. Tristan's philosophy...