Debut album Louder showcases Lea Michele's strength
Starting as a Broadway star and then moving onto television, Lea Michele is hoping her new album, Louder, catapults her to pop star status. At the age of nine, Lea played the part of young Cosette in Les Miserables. From there, she has played the well-known character Rachel Berry, an overachieving diva and high school student, on the hit television show Glee.
The 27-year-old singer released her pop album on Mar. 4 by Columbia Records. iTunes released four singles prior to the albums release: "Cannonball," "Battlefield," "What is Love," and "You're Mine."
Lea's powerful and passionate voice is portrayed in all of her songs. Louder's lead single, "Cannonball" reached #75 on the United States Billboard chart when it became available in December. Since the official music video was originally released in January, "Cannonball" has earned 6.7 million views on YouTube. Catering to her social media fans, Michele first released the tracklist for the album via her Twitter and Instagram.
Another song on the album, "You're Mine", is a tribute to her late boyfriend and Glee co-star, Cory Monteith, who died last year of a drug overdose. The heart-wrenching lyrics reveal her deep love for Monteith. "You're mine, for life / And I'll be by your side / We are entwined. You're mine, for life. Hold me until we die / I'm yours and you are mine."
Overall, the album includes a very personal and intimate perspective of Michele. The words in the song "Cannonball" helped her deal with the death of Monteith. "Freedom / I let go of fear and the peace came quickly / Freedom / I was in the dark and then it hit me / I chose suffering and the pain in the falling rain. I know, I gotta get out into the world again."
Sophomore Claire Ristau likes the title song. "This is the first time I've listened to [Cannonball] and I already think its great! She has an amazing voice, and the song makes me feel really confident. It's inspirational," Ristau said
There are a number of ballads that include themes about human strength, love, and overcoming great loss. Michele's Louder should be enjoyed by many, not just by Broadway musical or Glee fans. This emotional and inspiring album will be a hit among fans that appreciate Michele's strength: not only as a singer, but also as a person.
Leave a Comment
About the Contributor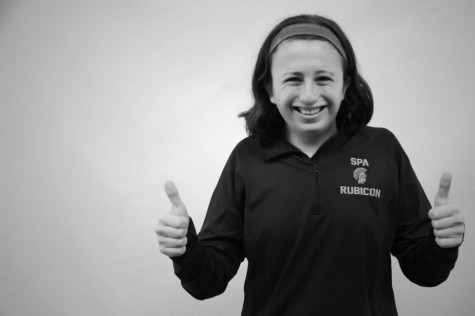 Catherine Braman, Online Editor-in-Chief
Catherine Braman is a Junior at St. Paul Academy and Summit School. Catherine served as Online EIC for first semester 2014 and was a co-Sports Editor...