[COMMUNITY SERVICE SPOTLIGHT] Seniors Raveendran and Rahman are election ready
Community Service Spotlight
Volunteer opportunities during COVID-19 have been difficult to obtain. But despite the circumstances, seniors Rashmi Raveendran and Aman Rahman have volunteered to help with Senator Tina Smith's campaign this school year. In 2020, Tina Smith is up against her republican opponent John Lewis. For Raveen and Rahman, volunteering includes handling phone banks, text banks, communication, and events. Everything is done and communicated through Zoom. Without being able to meet people face to face, volunteers like Raveendran lost the ability to connect with other volunteers. However, for Raveendran, who was able to briefly go into the campaign office and see the set up of where she would have been located if not for COVID-19, she said, "Everything we have done has been on Zoom and I think it would have been cool to be in that kind of crazy and hectic campaign environment."
Raveendran discovered this volunteering opportunity from a mutual friend who posted about it on their Instagram story. Since then, she has put in over 50 hours of community service. Raveendran started getting involved by applying for an internship and spent 10 hours a week over the summer working with the campaign. During her time, she worked phone banks- reaching out to callers in different age groups. There are two ways to run a phone bank. The first method on a program called Throughtalk where phone calls are preset and volunteers just had to pick up. The other method is through Vans which makes volunteers dial in each number. Raveendran had a script she could follow and record the data the people gave her, such as whether they knew about Smith's policies. Raveendran would end every call asking if they planned on voting for Tina Smith. She got anywhere from 20 to 100 conversations with voters every two-hour shift. Through this experience, Raveendran has learned great communication, planning, and leadership skills. During events, Raveendran explains, "A lot of recruitment for events is personal networking so like reaching out to your friends and stuff."
"
"Everything we have done has been on Zoom and I think it would have been cool to be in that kind of crazy and hectic campaign environment.""
— senior Rashmi Raveendran
After Rahman heard about the volunteer opportunity, she like Raveendran, started right away. She worked text banks every Wednesday, messaging about two hundred people from ages 18 to 26 years olds. She also got the opportunity to meet Tina Smith. Smith stopped by her local mosque and talked about police brutality and her plan to remove qualified immunity from police officers. Besides helping with the campaign, Rahman also volunteers with a food bank once a month. Though there have been some changes with COVID-19 she said, "It's [working at the food bank] been harder, but given the work, it is not too bad to stay a little bit farther away from each other."
Both Rahman and Raveendran support Tina Smith in her re-election campaign. Smith's opinions about climate change, police reform, Planned Parenthood, funding in education, pro-choice, medical resource accessibility are topics they both agree with. They found an excellent way to support the community during the pandemic.
Leave a Comment
About the Contributor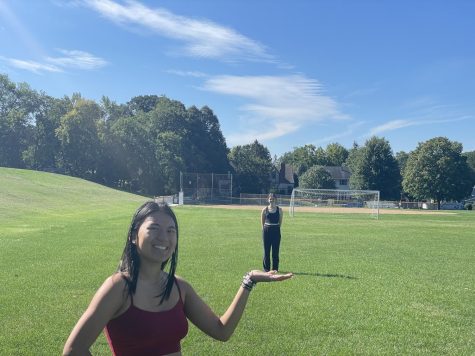 Ivy Raya, Creative Design Webmaster
My name is Ivy Raya. I am currently the Creative Design Webmaster and have been on the Rubicon Online for four years. Previously I was a staff writer,...