[COMMUNITY SERVICE SPOTLIGHT] Kalugdan connects to her roots through non-profit organization Kids Helping Communities
Sophomore Naysa Kalugdan and her sister started a non-profit organization, Kids Helping Communities, that works with communities at a disadvantage whether located in the US or overseas. Kalugdan's parents immigrated to the US from Asia, sparking her passion for volunteering after realizing the aspects of her upbringing she took for granted. In 2016, after a hard day at Taekwondo, she realized she wanted to bring her passions to life that maximizes the benefit to the community. Her parents are very supportive of her goals and have helped Kalugdan discover various locations to volunteer at and advertising on social media. They have expanded onto social media apps, such as Instagram and Facebook. She said, "For the past two years, it has just been me and my sister. It is kind of hard for us to open up to other people."
Kids Helping Communities has aided Kalugdan in expanding her audience and her communication skills. Her goal for the organization is to give back to the community, selecting different volunteer opportunities for anyone interested in their work to join them. While her target audience is kids, Kalugdan is willing to expand her audience once further developing her organization, whether allies or donators. Her goal with Kids Helping Communities is to encourage kids to empower themselves, benefiting the community in the future. Kalugdan said," It seemed like children don't have as much influence or say as to what's going on in the community."
"
We are looking for people to join our organization to expand it to make it larger, and they would be able to get volunteer opportunities with us and through us."
— Kalugdan
The volunteer topics at Kids Helping Communities are about a variety of social issues, such as environment to racial discrimination. Kids Helping Communities has already taken action by donating toys to Noah Ark's orphanage in the Philippines that fosters children with mental health disabilities. They have organized a clothing drive for soldiers and their families. Kalugdan looks at these various attempts to better the community while empowering the next generation to fight for ideas they are passionate about. Kalugdan said, "At the beginning of the pandemic, we knew it was tough to get cleaning supplies because of mass consumption, so we donated a bunch of cleaning supplies to Toronto Mcdonald House."
In the future, Kalugdan aims to grow her organization by creating a club at SPA and continuing to advertise on social media. Kids Helping Communities has also applied for grants to obtain more ways to get volunteer opportunities finically. Kalugdan said, "We are looking for people to join our organization to expand it to make it larger, and they would be able to get volunteer opportunities with us and through us."
If interested in joining, contact Kalugdan or Kids Helping Communities on Instagram @kidshelpingcommunities.
Leave a Comment
About the Contributor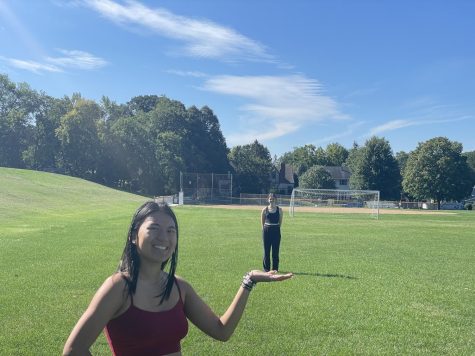 Ivy Raya, Creative Design Webmaster
My name is Ivy Raya. I am currently the Creative Design Webmaster and have been on the Rubicon Online for four years. Previously I was a staff writer,...