Club spreads positivity with cards to staff
COVID-19 has left many people working from home or unemployed. For the staff at St. Paul Academy and Summit School, all teachers are simply working from home, but the cleaning staff and kitchen staff still have to work at school. This is hard work that is also putting them at risk of COVID-19 as they are still in contact with co-workers. The Community Action and Service wanted to say thanks to these staff who are still working at school.
CAS was originally motivated to do this as there isn't much they can do during this time but this is something they can do to help the community. Sophomore Sarina Charpentier said, "We had a meeting where we thought of how we can help the community during this time and decided that we wanted to make the whole community feel appreciated."
"
We wanted to thank them and spread positive messages by sending them these letters"
— Sarina Charpentier
CAS members started making the cards last week. "We are hand-making all of the cards, making them more personal and also drawing fun images on the cards," Charpentier said. Although this will take the members a while they are happy to do it in order to make the staff feel appreciated. Although they cannot give them in person, club advisor Dr. Moerer is going to deliver them to the school and the staff will pick them up.
Although people cannot say thank you in person to any of the workers, it is important to still spread positivity during this pandemic. Charpentier said, "We wanted to thank them and spread positive messages by sending them these letters."
This message carries through in the school as all staff and students are encouraged to spread positivity throughout the community. This past week, SPA Communications spearheaded "Spartan Give Thanks" week and hundreds of messages were submitted.
About the Contributors
Zekiah Juliusson, Feature Editor
Zekiah Juliusson is a Feature Editor on RubicOnline. This is his second year on staff. While learning at home, he is staying busy by taking his dog for...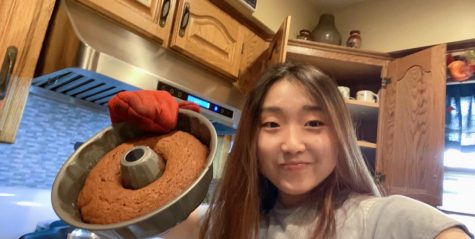 Elle Chen, Production Manager
Elle Chen is the Production Manager on RubicOnline. This is her third year on staff. During the pandemic, Elle has been spending a lot of time with her...