Capstone assesments to replace 2020 Midterms
Midterms have always been an irreplaceable element and experience in the St.Paul Academy and Summit School's Upper School. However, late last week it was announced that Midterms will be altered to capstone assessments this school year in adjustment to COVID-19 and Distance Learning Program.
Compared to everything else that has happened in 2020, the changes to Midterms don't come as unexpected to students. In previous years, Midterms were a week-long exam period held on campus the week prior to winter break. They also accounted for 20% of a students' semester grade. However, due to the special circumstances that the community has been put in this year, the grades for the capstone assessments, in replacement of Midterms, will only be integrated into the second quarter grades instead of being a stand-alone grade that counts for 20% of the semester grade. Additionally, more classes that have traditionally been centered around proctored tests, will pivot towards take-home tests, essays, and projects this year. In short, the capstone assessments this year will look similar to the finals held last school year.
The decision to alter Midterms this year did not come lightly. Upper School Academic Dean and History teacher Tom Anderson said, "We wanted to give teachers the freedom to assess student learning as they thought most appropriate given the conditions that the pandemic has imposed. Additionally, trying to do things 'normally' with the potential for waves of illness among everyone involved created the potential for substantial complications, both anticipated and unanticipated. It's likely, even under the conditions we have created, there will still be an unpredictable number of unpredictable circumstances that we will need to navigate."
Within the student body, there was an overall positive reaction to the decision. Sophomore Finn Sullivan said, "I think that it is the best way for SPA to adapt to the situation at hand while still keeping a normal feel towards the end of the semester."
Likewise, junior Divya Bhargava said, "I'm happy they got canceled because I think projects work better in the distance format."
While some students are happy with the Midterm changes, this still serves as a major drawback to many teachers. Since it is a teacher's job to make sure students are learning and getting the most out of course, losing Midterms means losing a chance for the teachers to enforce everything students have learned one final time. Anderson said, "For me, the biggest drawback is that midterms and finals are, at their best, an opportunity for students and teachers to 'pull it all together', to synthesize understanding and make meaning. I am confident that many of these assessments will still do that, but we have had to prune our courses to fit the time we have. My hope is that the exams in the spring will offer more of an opportunity for students to synthesize the year's learning."
Making the best out of the situation, Anderson said, "Certainly, this is an opportunity to try modes of assessment that we may not have under different circumstances, and when we have to try new things there are things we can learn. While nobody likes the choices that the pandemic has forced upon us or the ways it has limited what we can do, certainly we will emerge from this experience with tools, ideas, and insights that we may not have had pre-COVID."
This year capstone assessments, projects and papers will be held or due the week of December 14 to 18. Two review days will also be emplaced right before test week. More information can be found in student Veracross portals and below.
Capstone Week Schedule:
Monday, December 14:
9 a.m.: Science 1: Physics 9, All Biology, All Chemistry, All Advanced Mechanics
1 p.m.: All English
Tuesday, December 15:
9 a.m.: Algebra 1, Algebra 2 Fundamentals, H Algebra 2, Geometry, Advanced Algebra and Trigonometry, All levels Calculus and H Calculus, Honor Topics Courses
1 p.m.: All History and Social Sciences
Wednesday, December 16:
9 a.m.: All World Language
1 a.m.: Genetics, Neuroscience, Environmental Science, Organic Chemistry, ASR, Space Science
Thursday, December 17:
9 a.m.: Probability and Statistics, Advanced Probability and Statistics
1 a.m.: Honors Music Seminar, CSE
Friday, December 18:
9 a.m.: Creative Non-Fiction
About the Contributors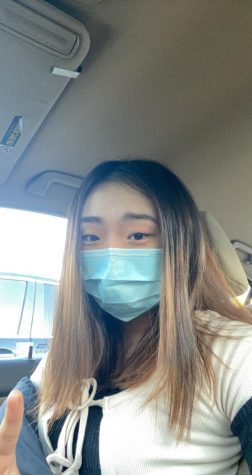 Elle Chen, Production Manager
Elle Chen is the Production Manager on RubicOnline. This is her third year on staff. During the pandemic, Elle has been spending a lot of time with her...
Mimi Huelster, Illustrator
Mimi Huelster is the Illustrator on RubicOnline. This is her second year on staff. While in self-isolation, you can find her drawing, making toast, and...