[The 5] Police budget cuts, holiday gathering restrictions, evidence of voter fraud dismissed and more
LOCAL
Minneapolis Mayor Jacob Frey and Chief Medaria Arradondo have stated they oppose the police budget proposal that would move around $8 million from the police force's budget in 2021. That money is meant to be placed in establishing non-law enforcement based on public safety programs and services. Mayor Frey has deemed this shift "irresponsible" as the cut will remove a significant amount of police officers out of service.
(Source: MPR News)
Minnesotans should expect a lonelier holiday season as Walz has advised the state to have the same regulations and guidelines regarding large group gatherings as Thanksgiving this year. Walz expresses that the spread of the virus and the state of Minnesota isn't going to significantly change come the holiday season. As of right now, the "lay-low" restrictions that started on Nov. 18 are set to expire on Dec. 18. However, the COVID-19 guidance given for Thanksgiving will most likely be the same for the holiday season.
(Source: Pioneer Press)
NATIONAL
President Donald Trump has been making many claims that there was excess amounts of voter fraud during the election and has been demanding re-counts from many states. However, on Tuesday, Attorney General William P. Barr stated that the Justice Department has not found any evidence of voter fraud in the recent election. They have not found fraud on a scale that could've affected the outcome of the election. This statement reaffirms President-elect Joe Biden's win in the 2020 election.
(Source: New York Times)
President-elect Joe Biden is hoping to restore the relationship between the government and the press. A positive relationship between the two is important for any politician. To achieve this goal, Biden has created a new communications team consisting of all women. The team includes Jennifer Psaki, press secretary, Kate Bedingfield, communications director, Karine Jean-Pierre, Principal deputy press secretary and Symone D. Sanders, Senior adviser and chief spokeswoman for Vice President-elect Kamala Harris.
(Source: New York Times)
INTERNATIONAL
A climate case against the energy company Shell gained traction in the Netherlands. The case was brought up by many environmental organizations and thousands of Dutch citizens. They demand that Shell reduce its carbon dioxide emissions by 45% by 2030. Environmental organizations are confident the judge's verdict will be in their favor and Shell will have to abide by the new rules. Despite this case, Shell has confirmed that they want to combat the negative effects of climate change and have already announced they want to be net zero emissions by 2050.
(Source: NPR News)
Leave a Comment
About the Writer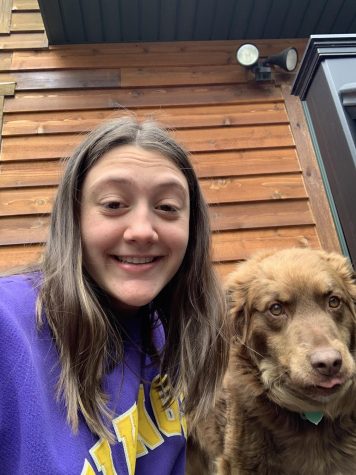 Annika Rock, News Editor
Annika Rock is a News Editor at RubicOnline. This is her second year on staff. During quarantine, she has been taken daily walks around her neighborhood...