[The 5] MN COVID-19 vaccine distribution going at fast rates, House approves Biden's virus relief bill, immigrant arrests rates have fallen and more
LOCAL
Around 1 in 5 Minnesotans have received at least one dose of the COVID-19 vaccine and the state is one of the fastest to administer doses to its residents. This means around 1.1 million Minnesotans have received it. Despite its fast administrative rates, state officials are pushing for a continuation of this trend to combat the many new variants swirling around the U.S. Boosting the Johnson and Johnson vaccines to Minnesota residents is one step they've decided to take to advocate more people receive the vaccine.
(Source: The Star Tribune)
In Minneapolis, communities of color are preparing for emotional stress and trauma as the Chauvin trial commences. After the traumatic events of last summer, many mental health experts emphasize that feelings and emotions many people of color had at that time are resurfacing prompting many professionals such as therapist Cherie Hanson to share coping mechanisms with communities of color to help combat this stress.
(Source: The Star Tribune)
NATIONAL
By a vote of 220 to 211, the House gave its final approval on President Joe Biden's virus relief bill. Biden is expected to sign it this Friday. The $1.9 trillion relief bill sends direct payments to Americans, extends weekly unemployment supplements, increases a child's tax credit and gives billions of dollars to administer the COVID-19 vaccine to Americans. This is one of the largest federal aid bills since the Great Depression.
(Source: The New York Times)
Immigration arrests have called significantly under Biden's presidency shown through ICE data. The number of immigrants taken into ICE custody has fallen 60 percent in the last few months. This has reinforced Biden's plans to change U.S. immigration policies. They have put guidelines and limitations on the ICE agency only allowing them to focus on those that pose a threat to national security, felony criminals and those who recently illegally crossed the border.
(Source: The Washington Post)
NATIONAL
China and Russia have recently agreed to build a research space station on the moon to further their cooperation in space and knowledge of the space beyond. The station will be open to all interested parties according to the China National Space Administration. The station is meant to be a place of moon exploration for both China and Russia, however, there is no date announced as to when the station is supposed to be complete.
(Source: The Washington Post)
Leave a Comment
About the Writer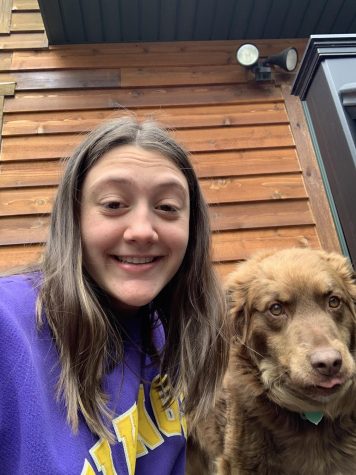 Annika Rock, News Editor
Annika Rock is a News Editor at RubicOnline. This is her second year on staff. During quarantine, she has been taken daily walks around her neighborhood...