[The 5] Driver's tests back online, Buttigieg becomes transportation secretary, MN elementary schools open soon and more
LOCAL
Minnesota driver's license exams are back online after a month of the system being down for repairs to improve security and the integrity of the tests. There were some discrepancies with the testing in the early stages of switching to online testing prompting the need for security improvement. Behind the wheel tests to earn a license, however, are still supposed to be taken in-person. Many parents and children stand outside of the DMV every day in long lines waiting to take their driver's tests.
(Source: The Star Tribune)
Minnesota elementary schools can be open to in-person and hybrid learning as soon as Jan. 18. As long as they continue to follow COVID-19 safety precautions, elementary students can learn at their schools in-person once again. Walz and his team had decided on this measure due to the nature of who COVID-19 affects most significantly and the social and academic losses many elementary students face with online learning. Students and faculty will be required to wear face masks and coverings as well as be provided an optional COVID-19 test every two weeks.
(Source: The Star Tribune)
NATIONAL
Pete Buttigieg will be the first openly gay and youngest cabinet secretary as President-elect Joe Biden introduced him as his transportation secretary. Buttigieg will run the Transportation Department. Buttigieg reflects on his past aspirations and challenges and highlights how this message is important for young people to know that whomever they may be or become, they can have an important and meaningful place in the federal government.
(Source: The New York Times)
Nursing homes may be the largest obstacle to tackle in the mission of vaccinating Americans with the Pfizer or Moderna COVID-19 vaccines. Many nursing homes are understaffed and many worry workers will stay home due to side-effects of the vaccine. Many are also unwilling to take the vaccine making it harder for the virus to stop spreading. Additionally, the notion that many patients aren't able to make their own medical decisions and require consent will pose a big challenge to vaccinating residents and staff at struggling nursing homes.
(Source: The New York Times)
INTERNATIONAL
The Pfizer vaccine has taken hold in Britain with over 130,000 people already vaccinated, but British officials want everyone to get the vaccine in hopes of lessening the spread of COVID-19. In a survey, 1/3 of the population opted out of getting the vaccine or wanted to wait and see what happens next posing challenges for this hope of everyone getting the vaccine. Britain has started a mass education campaign that will include popular British influencers to educate people about why they should get the vaccine.
(Source: The Washington Post)
Leave a Comment
About the Contributor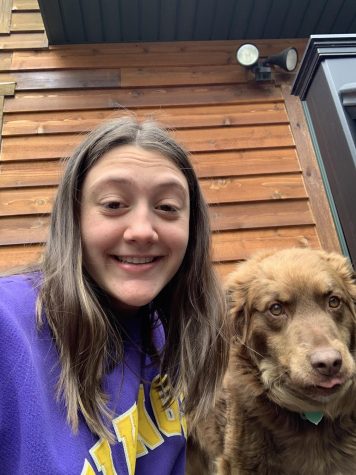 Annika Rock, News Editor
Annika Rock is a News Editor at RubicOnline. This is her second year on staff. During quarantine, she has been taken daily walks around her neighborhood...