[The 5] 6th grade shooter at Plymouth middle school, MN Vaccination rates fall, Mask mandate loosens for vaccinated individuals and more
LOCAL
A Plymouth middle school 6th grader shot a gun early Monday morning in school. His father told the press the boy had taken the gun from home. There were no injuries reported related to the gunshot and the boy. Shots were fired at 8:45 a.m. in a hall outside the bathroom and over 700 hundred students were on lockdown until 12 p.m.
(Source: The Star Tribune)
Vaccination rates are falling in some parts of Minnesota which could slow down the goal of herd immunity. The pace of administration of new shots is slowing rapidly. After the eligibility broadened, 15 out of the 87 counties in Minnesota had growth rates of less than 15%. As of last week, 2.4 million people, or 55% of eligible Minnesotans have received their first dose.  After the eligibility broadened, vaccination rates for metro residents soared, but those in rural areas fell behind.
(Source: The Star Tribune)
NATIONAL
The CDC announced that fully vaccinated people can go outdoors without a mask except in crowded areas. The CDC says that because of constant airflow outside, people can loosen the mask mandate outside. However, those vaccinated and unvaccinated should still wear masks at crowded events and in crowded settings. More than 52% of eligible people in the U.S. have gotten their first dose of the vaccine prompting this new change in rules.
(Source: The Washington Post)
Senator Kirsten Gillibrand, Democrat of New York, posed a bill years ago that would remove military commanders from deciding on sexual assault cases involving their service members. This bill is becoming more popular and gaining support from some members of Congress. This support could possibly shift military law in the future. Supporters combined efforts could cause the biggest change in military law since 2010.
(Source: The New York Times)
INTERNATIONAL
India is full of sickness and death at this moment as they reported more than 300,000 new COVID-19 cases for the sixth day in a row. Healthcare systems are being overwhelmed by the wave of new sick individuals. India is facing a huge wave of transmission as they have reported more cases in the past week than there were in the first five months of the pandemic. Over 2,000 deaths have been reported and some hospitals in bigger cities and refused to admit patients as they are at full capacity and struggling to find enough supplies.
(Source: The Washington Post)
Leave a Comment
About the Writer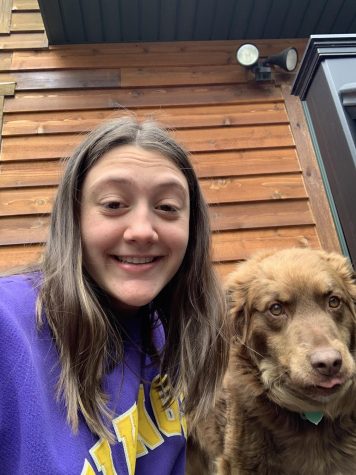 Annika Rock, News Editor
Annika Rock is a News Editor at RubicOnline. This is her second year on staff. During quarantine, she has been taken daily walks around her neighborhood...