Nolan Wagner composes a piece for Honors Symphonia
Senior Nolan Wagner has long been a fan of music composition, and he now gets to showcase this passion through a piece titled "Diomedes," which he composed for the Honors Symphonia Orchestra.
In order to craft this piece, Wagner drew from multiple sources of inspiration, ranging from previous classwork to things that he has read in his free time.
"The inspiration for the name specifically was because I read the Iliad, and I was like, you know, I need a name for my piece … and it [the name] was cool," Wagner said.
As for the music itself, one of the piece's central melodies is based off of a two-bar long fragment that was composed by the philosopher Ludwig Josef Johann Wittgenstein.
"[For] the first melody I took that [fragment and] I extended it and added more layers to it," he said. "The second melody was something I composed using a four-part harmony technique that I learned in Music Seminar last year," Wagner said.
Although Wagner started off with a decent amount of inspiration, composing a piece is no easy feat and requires a lot of time to think through each of its key components.
"
The second melody was something I composed using a four-part harmony technique that I learned in music seminar last year.
— Nolan Wagner
"I started with the melodies," he said, "and then I had to say okay: 'Which instruments do I want to play this? Which instruments do I want to play the harmon[ies]? … Where do I want this [section] to be in the piece? What are all the details like tempo and time signature?' … You can't just write it [from] start to finish like you do an essay or something."
Once Wagner developed a rough draft of his piece, he then worked with orchestra teacher Almut Engelhardt throughout the fall semester to fill in any missing details and add the final touches. After turning in the finished piece at the beginning of this year, it was time for the orchestra to start rehearsing.
Engelhardt has taken the lead when it comes to teaching students how to play the piece; however, Wagner occasionally gives his input on how he wants certain parts of his piece to be played.
The entire process has been very rewarding for Wagner, and he urges any interested students to reach out to Engelhardt about composing their own pieces. "I would encourage anybody who … likes composing and has enough time on [their] hands to do it," Wagner said.
To hear Wagner's piece played live, attend the Spring Instrumental Concert on Apr. 29 at 7 p.m. in the Huss Theater.
Leave a Comment
About the Contributor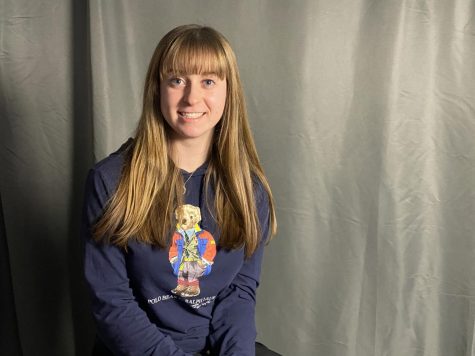 Alison Mitchell, Podcast Editor
Hi! I'm Alison Mitchell (she/her), and this is my second year on staff. I was previously a Staff Writer but am now the Podcast Editor for the Rubiconline....