School spirit falters on Homecoming dress up days
Homecoming is as classic of a high school tradition as it gets — a week-long celebration of everything school spirit. From the kick-off assembly to the carnival, days are packed with non-stop activities like the lip sync, friendly game tournaments, and, of course, dress-up days. Or, at least, that's what it is any other year.
While most things were either cancelled or pushed aside for Homecoming this year thanks to the COVID-19 pandemic and the roll-out of a new hybrid schedule, SAC co-presidents Sara Browne and Gavin Kimmel pushed for dress-up days to stay in the Homecoming roster.
"I was really happy that we continued the tradition of dress-up days this year. Personally speaking, I was really adamant toward the inclusion of Class Color Day, since I've done my time and waited to wear all blue," said Kimmel.
"I thought that dress up days were one of the only things we could salvage from Homecoming, so I was excited to have something to do for festivities," said Browne. "Looking back, I'm not sure the first week of hybrid was the best time to do it."
"I wasn't super pumped about Homecoming this year," said senior Lizzie Kristal. "Both because it was our first week back into the building which was very overwhelming, and because we couldn't attend any festivities, such as the pep-fest, carnival, or even the outdoor soccer game."
Despite the already eventful week, however, Krystal and other senior girls were able to carry on the tradition of adorning overalls with blue and gold decorations for Class Color Day, only this time it was off-campus with masks and social-distancing precautions.
Not only was stress a large factor in whether or not students dressed-up, but so was community participation.
"I dressed up on a couple of the days, the days when it felt like I would connect with the rest of my grade — our Class Color and Homecoming Days," said 9th-grader Katharine Hanf. "I just felt weird dressing up on the second day of in-person school [Dance Day] knowing that no one else in my grade would."
Loading ...
Hanf wasn't the only student with community-based hesitation. Sophomore Ruby Fields was also conscious of the inspiration she gained by physically being around her peers, as opposed to dressing up while stuck at home.
"I dressed up for the in-person HOCO theme days," said Fields. "I felt like I was more motivated when I was actually going to see people."
Throughout the week, Kimmel and Browne took to SAC's social media platforms in order to remind students that Homecoming Week was, indeed, still happening.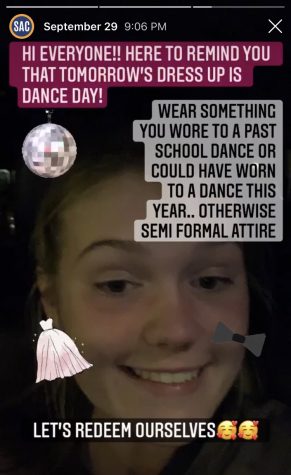 "Let's redeem ourselves," wrote Browne on an Instagram story, reminding others to step up and dress-up for Wednesday's Dance Day. She and Kimmel also used Instagram to advertise this year's Homecoming merch, describing how useful and high-quality the masks they sold are.
"We clearly had to get creative with how to encourage people to dress-up and buy merch," said Kimmel.
Reflecting on the past week, Kimmel and Browne expressed their disappointment in what could have been a community unifier during this atypical school year.
"I love Homecoming with all my heart and I love planning it even more and I've always dreamt about how epic this year's homecoming would be as a senior," said Browne. "Obviously there have been a lot of disappointments this year, and Homecoming was no different. I don't want to say Homecoming was a flop, but it definitely was not up to par. I'm definitely disappointed with the major lack of participation but I completely understand. It made my day to see even the few people who participated and I feel no negativity towards those who didn't just because there was already so much going on this past week."
Kimmel joined Browne in wondering what could have been for this year's Homecoming.
"I am definitely disappointed that people didn't dress up as much as they normally do," said Kimmel. "I can understand a lack of motivation that comes with hybrid learning, but I was really bummed that people weren't stepping up and making the best of our given situation. A student actually told me and Sara that they were grateful for Dance Day, because dressing up nicely gave them motivation to come to school and have a good day. I wish everyone had adopted a similar mindset, but I am very thankful for the people who did end up dressing up."
Leave a Comment
About the Contributor
Mimi Huelster, Illustrator
Mimi Huelster is the Illustrator on RubicOnline. This is her second year on staff. While in self-isolation, you can find her drawing, making toast, and...