Peer Helpers prep community for semester exams
With semester exams fast approaching, Peer Helpers has a plan to lower the stress students often feel. Each year at this time, the student group runs a relaxation room on campus, aimed at helping stressed students who are looking for a break. It offers baked goods, coloring, storytime and classical music.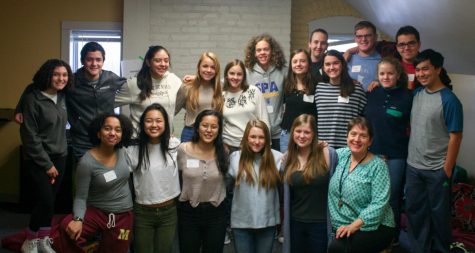 "We just want to create a place where people feel like they aren't surrounded by people who are constantly stressed," said senior Peer Helper, Tess Hick.
It's also just one part of the mission that Peer Helpers has.
Recently, the group also has been working on analyzing a tobacco survey that was put out last year. Additionally, there is an annual Peer Helpers retreat with a theme focused on problems that arise within the community. Hick and fellow senior, Dorienne Hoven, are dedicated members of the group. Both say that they are heavily invested in the well-being of students who seek their help.
Hick said she thinks some students are hesitant to seek help because they don't know what Peer Helpers offers or say it lacks training. "We really do a lot of development and a lot of training and I really wish people would come and ask for help more," she said.
"
The most important thing to know is you've got this"
— Dorienne Hoven
Peer Helpers says its help can be critical during the exam season. Along with the relaxation room, which is located in the library classroom and will open the week of midterms Dec. 11-14, the group has visited freshman advisories to answer questions and to dispel rumors about exams.  Peer Helpers are also available for private consultation about how to manage stress come midterms. The overarching trend in Hick and Hoven's advice was to take the pressure off.
"The most important thing  to know is,one, you've got this, I hope that you've listened in class, your teachers are there to help you, they're not going to just throw things on that you don't know…and also if you do badly, it's okay. It doesn't drastically affect your grade, it doesn't ruin the entire semester or all that you've worked for," Hoven said.
Hick offered more advice: "What is enough? Because if you know 95 percent of the stuff and that last 5 percent is going to take you hours, you're good…but I think people need to learn when you feel you've done enough, you've done enough. There has to be a point when you stop," she said.
Students who want help can reach out to US Counselor Susanna Short, who can direct students to a peer helper to talk to. Overall, the message from the group is to relax.
"One of the important things about exams is to know which friends you can study with and which friends will just stress you out more, " Hick said.
Students should also focus on their health. "Study, sleep, eat well, and surround yourself with people who aren't going to freak you out," Hoven said.
In the end, it all comes down to some advice from Hoven: "It's a test, and I got this."
Leave a Comment
About the Contributor
Martha Sanchez, RubicOnline
Martha is a Co-Sports Editor on RubicOnline. This is her third year on staff. She loves writing and this had led her to journalism. In addition to Martha's...