Midterms at forefront of Minnesotans' minds
Senior Lindsay Browne's 18th birthday was exciting for many reasons; the most important for her was the ability to vote. With early voting started and the official election day on Nov. 8, candidates travel the state in full campaigning mode.
Senior George Peltier can't seem to avoid it: "I see ads on TV, front lawns, stickers, t-shirts, online, and hear them on the radio," he said.
But he knows campaigning isn't always the full story.
"It is important to do research. A 5-minute Google search on reliable sites is plenty, in my opinion, to see who is running and what they stand for," he said.
A way to help out in elections without being able to vote is at the polls by volunteering on election day. Local student Zora is getting involved for the first time this year. "I'll be helping to check people in and making sure they understand how to fill out their ballot," she said.
There is currently a national shortage of poll workers and according to a 2018 survey only 8% of poll workers are under the age of 25.
The midterms have been at the forefront of Political Discourse club meetings at school. Senior Maya Sachs, who leads the group, knows local elections are the most important to politics.
"The midterms really dictate or encapsulate every other topic [we have discussed], because a lot of political issues, like all that is happening with policy, are happening on a state level."
Fellow student leader Cassie Zirps added that "Young people: we're gonna be around the longest, right, so we're the ones who [the election] is most important to."
Faculty are also involved. History teacher Andrea Sachs engages in political campaigning. "The most effective way to persuade someone is still face-to-face contact […] it's good to remember that a lot of people are actually psyched when someone knocks on their door," she said.
Door-knocking is a popular form of voter outreach where volunteers or people in a campaign visit neighborhoods and either collect data about voters' opinions or inform citizens about candidates' policies. During the peak of the pandemic in the 2020 election, face to face campaigning was almost completely shut down.
"There was a lot of phoning and there was a lot of text banks, but it's really easy to ignore a text," Sachs said. "I definitely recommend [door knocking] to students."
Voter turnout made history in 2020, with nearly 80% registered voter turnout according to the MN Secretary of State office. Vote registration can be completed even on Nov. 8 in person, and approximately 10% of Minnesota voters do this.
Mock elections, bringing minors to the polls, and volunteering are all part of informing the citizens of the future. For Sachs, "It helps develops a habit [of voting]."
All constitutional offices are up for reelection this year including Governor. Sachs encourages students to pay attention to one specific race: "The secretary of state is the person who kind of overseas elections in the state," she said.
"Making sure that we're using our vote to support people who protect the integrity of our system," Sachs said. Secretary of State incumbent Steve Simon (D) is up for reelection against challenger Kim Crockett (R).
"
The midterms really dictate or encapsulate every other topic [we have discussed], because a lot of political issues, like all that is happening with policy, are happening on a state level."
— Maya Sachs
The most important issue on the ballot? "Choice," according to Dr. Sachs.
"The Dobbs decision has had a transformative effect on this year's races," she said.
Students agree: "Definitely Roe v. Wade because it's completely in the state's hands," Maya Sachs said.
The Supreme Court overturned Roe v. Wade in June through a ruling on Dobbs v. Jackson Women Health organization. The ruling removes federal protection for abortion and leaves the issue to the states.
Abortion is currently legal in Minnesota due to a ruling by the state supreme court, but statements from republican challenger for governor Scott Jensen cause speculation over if it will stay that way if he takes office.
Regardless of the outcome of the midterms, post-election day, students must adhere to the student handbook policies surrounding diversity, equity, and inclusion.
Student Secretary of Upper School Council Clea Gaïtas thinks the key to political discussions in school is respect.
"Even if you don't agree with the person you're talking to, it's always better to show them respect and listen than to just shut them down and argue," Gaïtas said.
Leave a Comment
About the Contributors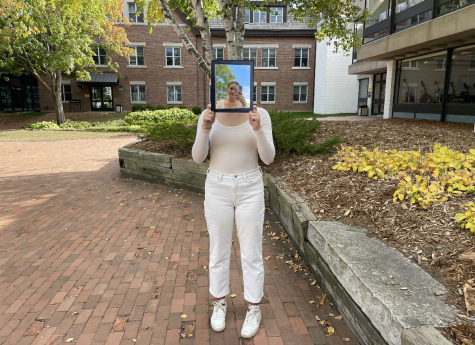 Clara Ann Bagnoli, Staff Writer
Hi!! My name is Clara Ann Bagnoli (she/her). I work as a Staff Writer for The Rubicon, RubicOnline, and Ibid Yearbook. At school, I'm involved in Herspace,...
Hazel Waltenbaugh, News Editor
Hi!! I joined The Rubicon as a sports editor during my sophomore year, junior year I was the news editor for our print section, and for my senior year...