Kitchen creative: an outlet for everyone
For many students at SPA, cooking is a part of their lives not just at lunch, but outside of school as well. The experience of using your skills to make something that can be enjoyed and shared with others is extremely rewarding, and the creative process of cooking gives students a chance to explore various recipes and dishes.
Freshman Deling Chen has been cooking on her own for about four or five years. She was first inspired by seeing her family members cooking when she was younger, and her favorite part about it is the sense of accomplishment from mixing ingredients to create a new dish. Chen said the most challenging part of cooking is being afraid of failing, but "I think that there is always something to learn from each dish or dessert made, so nothing is a waste or failure."
"
I think that there is always something to learn from each dish or dessert made, so nothing is a waste or failure."
— Deling Chen
Her favorite go-to dish is a banana matcha smoothie, and her fall recommendation is a classic pumpkin pie.
Being surrounded from a young age by family and friends who cook also applies to sophomore Sam Gilats. As a self-described picky eater, Gilats loves to experiment with recipes in order to find something they would willingly eat. They enjoy baking, especially bread and pastries, and their go-to dish to cook is fresh pasta with butter and garlic. Gilats recommends sautéed vegetables as an easy food for beginners. "I have a tradition of making apple pie every year for Thanksgiving," she said, "and I love making any kind of fruit tart."
Sophomore Lucy Shaffer's favorite baking projects are often cakes. "I love decorating them and they usually turn out nicely," she said. Shaffer also enjoys baking treats like lemon bars, shortbread, and cheesecake. Some of her seasonal recommendations are carrot cake, brownies and blondies, and coffee cake.
Senior Sevy Hayes enjoys experimenting with all kinds of new recipes, which means she doesn't have a particular favorite type of food to make. "If I had to pick a favorite recipe it would be cake/cupcakes because I have the most creative freedom," she said. Sevy's go-to recipe is for copycat Crumbl chocolate chip cookies. In the fall, she defaults to anything with pumpkin or apple in it, but prefers to add the two ingredients on her own. "I usually find a way to make the recipe more unique and personalized," she said.
Whether it is cooking for oneself, or for others, making food is a way to expand one's own interests while also possibly doing something nice for another person. Although a simple act, cooking can bring people together.
Leave a Comment
About the Contributor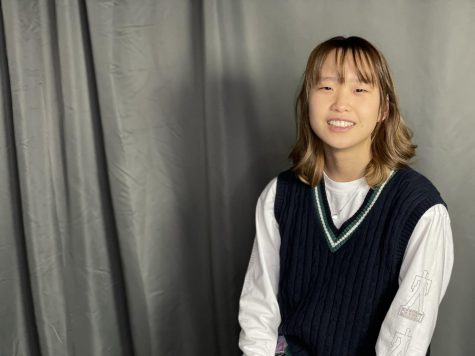 Claire Kim, Opinions Editor
Hi! I'm Claire Kim (she/her), the Opinions Editor for print. This is my third year on staff and in previous years, I was the Music Editor and a staff writer....