Student Activities Committee announces Homecoming plan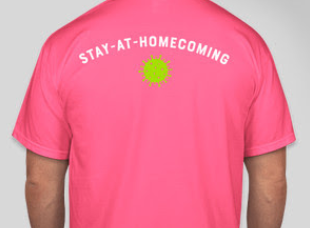 Student Activities Committee sent an email the afternoon of Sept. 23 to the upper school regarding this year's homecoming plan.
"We know how much of a bummer it is that homecoming cannot proceed as normal this year," the committee wrote, "but we are committed to providing the student body with as much fun as is possible in these difficult times."
The theme this year is timely and funny as it's "endless summer" which corresponds with the fact that students haven't been in-person school for over six months.
SAC created merchandise in the form of masks and T-shirts for this year's stay-at-home-coming which students can order via form by Friday, Sept. 25 at 3 p.m.
To keep the spirit and traditions of homecoming alive SAC has organized a virtual Lip Sync for students and faculty to participate in and dress up days for the first week of hybrid learning.
The dress-up days are:
Tuesday – class color day (9th grade – green, Sophomores – yellow, Juniors – red, Senior – blue, faculty – black).
Wednesday – dance day where students can wear what they would have worn to the homecoming dance or just semi-formal.
Thursday – Wacky Waist Up day where students and faculty will be able to show off their funky outfit while on Google Meets classes during virtual learning.
Friday – Blue and Gold day where students can represent SPA by wearing the school colors on clothing, accessories, and more.
More updates on Homecoming will be added to RubicOnline in the following week.
Leave a Comment