Fair share: shop around the world with Ten Thousand Villages
The Fair Trade movement began and grew in response to poverty and exploitative trade. Originally a small movement, fair trade has become a global concern since its origin in the 1940s.
Exploitative trade typically refers to the mistreatment of workers—sweatshops and child labor are common examples of this. Most fair trade organizations attempt to aid producers in areas where such exploitation is prevalent in order to shift focus away from products made in such conditions and encourage the purchase of fair trade crafts. 
Generally recognized as one of the first fair trade organizations, Ten Thousand Villages (originally Self-Help Crafts) is a non-profit organization that aims to provide opportunities for artisans residing in developing countries to support themselves. Through fair-trade focused relationships, Ten Thousand Villages is able to provide a reliable income for these artisans by selling their products in retail stores (decorations, trinkets, gifts, chocolate, coffee, books about fair trade and equality, and products produced in a fair-trade fashion by other companies). 
Ten Thousand Villages is also a founding member of the World Fair Trade Organization (an association dedicated to improving the lives of struggling producers) and a member of the Fair Trade Federation (an association that supports North American businesses that are committed to fair trade practices).
"We're creating the opportunity for people around the world to make a living—to feed their families and to help their communities thrive. Oftentimes they don't have any other means of supporting themselves. It's really about making a difference in other people's lives,"  long-term employee and co-founder of the Minneapolis branch Joan Kreider. 
When Kreider was in third grade, she lived in the same town as the original founder of Ten Thousand Villages. At the time, the founder, Edna Ruth Byler, was selling products from around the world in her basement – everything from Indian brasswork to African wood carvings. "It was a magical place," Kreider recalls. It was this experience that motivated her to establish a store in the Twin Cities.
For sophomore Sonia Ross, her involvement in Ten Thousand Villages started with required service hours.
"To volunteer at Ten Thousand Villages, they recommend that you read this book about fair trade [Fair Trade: A Beginner's Guide]. The book was really powerful to me and I ended up caring a lot about fair trade—I'm more aware of it now. And so I wanted to continue to support something that I was interested in," said Ross. According to Ross, her work at Ten Thousand Villages has changed her worldview. "I was not very educated about fair trade before my work at Ten Thousand Villages. Now that I understand how important it is, I do my best to shop fair trade."
"
We're creating the opportunity for people around the world to make a living—to feed their families and to help their communities thrive."
— Ten Thousand Villages co-founder Joan Kreider
For communications manager and long-term employee, Emily Mesch, her work has impacted her character. "I think it's made me a much more compassionate human being because I'm learning so much about the world," said Mesch. Mesch had volunteered at Ten Thousand Villages for almost a year before being upgraded to paid staff.
Mesch believes there is a role for everyone: "As a volunteer in the store, there are so many ways that people can help. Whatever you're interested in, we probably have something for you to do here to help," Mesch said. "The young people are the people that are really going to make a difference, like look at, you know, people that are just a few years older than you in the climate protests and all the other things your generation is doing. So come here, learn about the products and our artisans. And then take that back and share that with your friends and your families and your communities. That is really how change is going to happen."
Leave a Comment
About the Contributor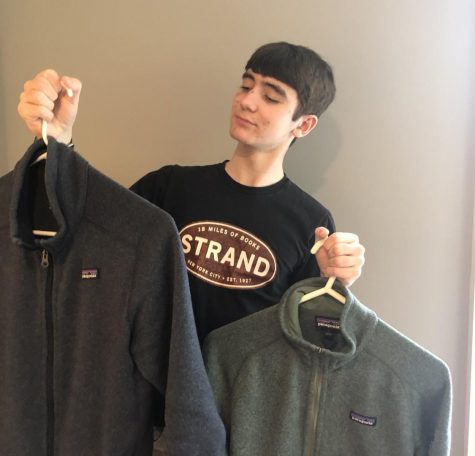 Colin Will, Opinion Editor
Colin Will is an Opinion Editor on The Rubicon. This is his first year on staff. During the pandemic, he has built a garden, gone bird-watching, verified...