Draft-by-draft preparation goes into senior speeches
Senior speeches, a tradition SPA has valued for many years, allow seniors an opportunity to share their stories and opinions. The audience dedicates five to seven minutes of their time to seek to understand each individual senior on more of a personal level, as seniors share their personal discoveries or struggles, the advice they want to pass on, their opinions on the world around them, or anything else they might wish to spend that time up on stage.
This year Andrew Inchiosa, who teaches English in the upper school, is the senior speech advisor. He helps students throughout their drafting process, which typically starts about a month before the given speech.
"What we say to the students is that their speeches have to have a point, which I think can mean a lot of things. They are currently supposed to be five to seven minutes, which I think is slightly less than they used to be. But the topics are fully up to students" Inchiosa said.
First drafts are typically due about a month before the speech is given to ensure valuable feedback.
"I'll usually meet with them around that time, and then they'll work on their second drafts about a week before their speech. They usually will finish their final drafts a day or two before they give their speech" Inchiosa said.
Senior Sal Burkhardt was one of the first speakers this year, who used their time to talk about Transgender Day of Remembrance.
"I think students give their speeches on many different things, many are about personal growth or a topic the student is passionate about," Burkhardt said.
The first draft for Burkhardt was stressful, but after deciding on a topic the process felt smoother.
"It probably took me a week or two to write the first draft, including figuring out what to write about. Being on stage was definitely nerve-racking, but there are opportunities to practice your speech on stage beforehand so that definitely made it easier" Burkhardt said.
Another speaker, Senior Annika Brelsford, felt really excited to be one of the first speakers.
"I get nervous for big performances of any kind, especially as the anticipation goes on, and so I knew that the sooner I could give my speech, the happier I would be" Brelsford said.
Brelsford shared their personal experiences to encourage embracing vulnerability as well as show their gratitude for the people and things that bring them joy.
"I used poetic prose to try and communicate the feeling I have sometimes of falling in love with the world or the feeling of living. I think the idea of personal change and growth is a very common thing for seniors to write their speeches about because we feel so different from the people we were when we started high school. I feel healthier and happier than I ever have in the past four years and so why wouldn't I share how I got there?" Brelsford said.
Although excited to share their speech, Brelsford said they felt anxious about giving their speech since the day they first learned about the tradition.
"I think it's hard to know what you're going to write about that early on, though, because my own personal experience is so different than it was when I was 14. It wasn't scary to be on stage in the end, actually. I felt okay being up there," Brelsford said.

"
By having senior speeches, we are kind of carving out a space where everyone is heard in a way or has a few moments to talk about something that is on their mind.
— Andrew Inchiosa
Although many students feel nervous about giving speeches, many appreciate the time they get on stage. Inchiosa values that the experience is shared throughout the community, and appreciates having a little insight into each student's life.
"By having senior speeches, we are kind of carving out a space where everyone is heard in a way or has a few moments to talk about something that is on their mind. You all as students are kind of telling us [as teachers] what's important to you, or what we should be thinking about as a school" Inchiosa said.
"It's daunting to be given 7 minutes to speak when I felt like I had nothing of value to share. I'm glad I had this opportunity though, in the end. It was well worth all the work" Brelsford said.
The next round of senior speeches will occur on Oct. 28 at 1 p.m.
Leave a Comment
About the Contributor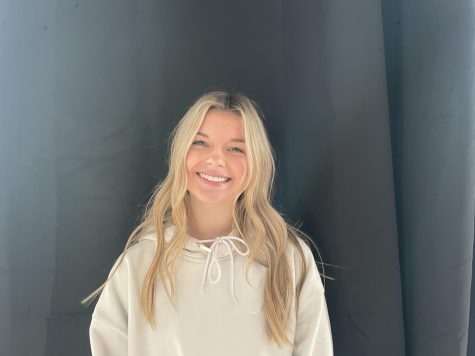 Hazel Waltenbaugh, News Editor
Hi!! I joined The Rubicon as a Sports Editor during my sophomore year. Junior year I started as the News Editor for our print section, and for my senior...