[DANCE MOVES] TikTok continues to thrive
As time goes on, TikTok and TikTok creators become more and more famous and younger people tend to love what they have to offer. With creative dances, funny skits, and tutorials, the famous app continues to grow its audience. Many students around the school have memorized the dances kids do on the app and listen to the songs that go with them.
Juniors Eloise Duncan, Ruby Hoeschen, and Ellie Rosso perform a famous dance on the app to a song called "Roxanne" by Arizona Zervas.
"My friend Eloise taught me this dance last weekend. I think it's really fun to do with my friends. I've seen it on TikTok before and it seems really popular among high school students on TikTok. I know a lot of students not only dance to this song on the app but also listen to it in their free time,"  Hoeschen said. 
"
I like TikTok because I like the dances and I think it's really creative."
— junior Mina Mandic
Some students of the Drerer advisory love to dance to songs on the app and some of them have even memorized them.
9th graders Riley Erben and Tommy Verhey explain the dance and where they saw it.
"It is a TikTok original dance. I saw it on the for you page on TikTok. The for you page is a place where people can see popular TikTok videos. This TikTok dance is so fun and is one of my favorites. This dance is not difficult at all. In my opinion, TikTok and the dances people do on it is for everyone," Erben said. 
Verhey continues Erben's point about how many students actually have done this dance and how anyone can do it, "I believe a lot of students do this dance especially on TikTok," he said. 
Many students make TikToks whether it's a dance, a comedy skit or a tutorial to cure bordem and pass the time away. Junior Mina Mandic explains this feature of the dancing. "I learned this dance when I was with my friends in Florida and we decided to have a night in and did a bunch of TikTok dances on TikTok. I think it's a fun dance. I don't really think this dance is that popular right now, but it might've been popular before. I like TikTok because I like the dances and I think it's really creative," Mandic said. 
Leave a Comment
About the Writer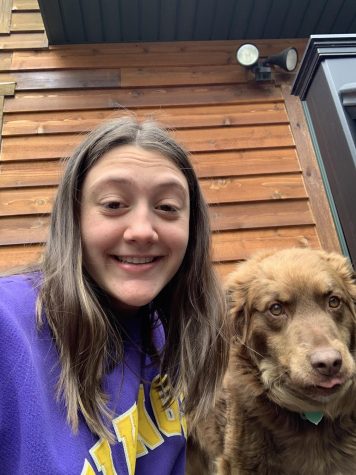 Annika Rock, News Editor
Annika Rock is a News Editor at RubicOnline. This is her second year on staff. During quarantine, she has been taken daily walks around her neighborhood...