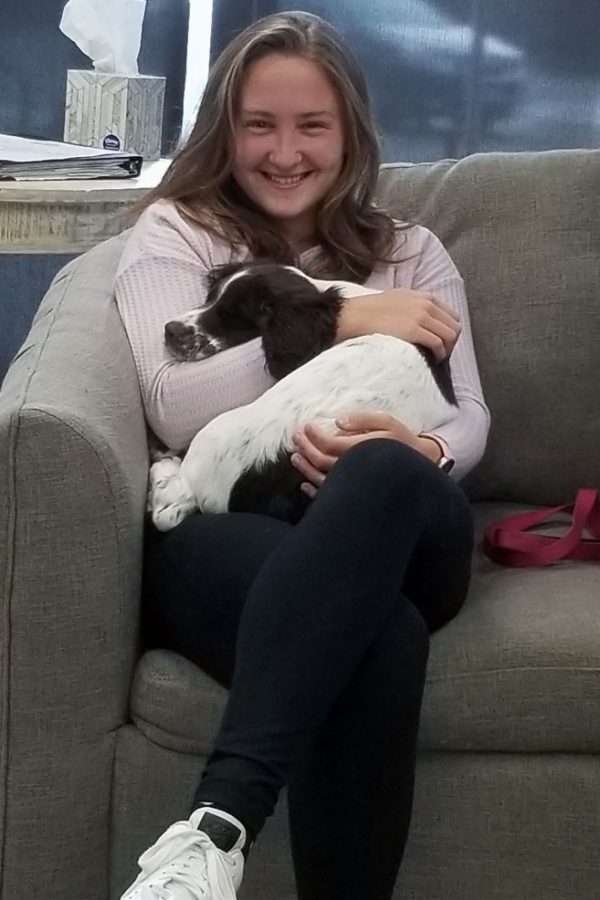 Elizabeth Trevathan is the Director of RubicOnline. This is her third year on staff.
She is excited to get back into the classroom and spend a little less time staring at a screen. Caribou Coffee is a pandemic necessity for her, along with playing tennis, watching
How I Met Your Mother
, and the long drive to her favorite ice cream shop, Selma's Ice Cream in Afton, MN.
Her favorite author, F. Scott Fitzgerald once said, "The world only exists in your eyes. You can make it as big or as small as you want," and she thinks about that quote often while she writes.
Elizabeth can be reached at
[email protected]
Elizabeth Trevathan, Director of RubicOnline
Jan 25, 2021

What motivates you?

(Story)

Jan 24, 2021

[SUSTAINABILITY & ETHICS] Line 3 brings up environmental issues of the past, present and future

(Story)

Jan 19, 2021

High security and worry around Presidential Inauguration

(Story/Media)

Jan 10, 2021

COVID-19 vaccine challenge: injection logistics

(Story)

Jan 07, 2021

Trump supporters mob US Capitol, disrupt electoral count

(Media)

Dec 10, 2020

In the midst of a pandemic, there were mythical state champions

(Story)

Dec 04, 2020

Time for Trump to concede: for the good of the country, his party, and himself

(Story)

Nov 20, 2020

[SUSTAINABILITY & ETHICS] Looking ahead, President-elect Joe Biden introduces his climate plans

(Story/Media)

Nov 09, 2020

Students react to historic 2020 election

(Story)

Oct 29, 2020

Anderson talks pandemic school safety

(Story)

Oct 26, 2020

Everyone has a story. Tell me yours: ghost stories

(Story)

Oct 22, 2020

[SUSTAINABILITY & ETHICS] Start small, go big: education v.s. limitation

(Story/Media)

Oct 13, 2020

St. Paul march calls for the protection of black women

(Story/Media)

Oct 01, 2020

Sports adjust practice, play for COVID-19 restrictions

(Story)

Sep 23, 2020

[SUSTAINABILITY & ETHICS] What's in your Starbucks cup? Probably slave labor.

(Story)

Sep 21, 2020

Taking a job during a pandemic: Ken McNish

(Story/Media)

May 17, 2020

Doctor explains how outside affects social distancing

(Story/Media)

Apr 30, 2020

How do we gain better control and knowledge of COVID-19? Anti-body tests.

(Story)

Apr 21, 2020

[COMMUNITY SERVICE SPOTLIGHT] Families feel university students' love from virtual calls

(Story)

Apr 20, 2020

COVID-19 changes college admission process

(Story)

Apr 16, 2020

Spring sports postponed until further notice

(Story/Media)

Mar 11, 2020

Jet lag from too much sleep is a thing too

(Story/Media)

Mar 03, 2020

Teams find unique spins on the classic banquet

(Story)

Mar 03, 2020

What's new in the environment? Four things you may not know are happening…

(Story)

Feb 20, 2020

It doesn't add up: TI-84 isn't the only option

(Story)

Feb 03, 2020

A natural New Year: state park candlelight ceremonies

(Story/Media)

Feb 03, 2020

[RESTAURANT REVIEW] FireBox: a new kind of BBQ

(Story)

Jan 21, 2020

Australian Open players raise wildfire relief funds

(Story)

Dec 14, 2019

4 ways youth can fight climate change besides protesting

(Story)

Dec 10, 2019

From sophomores to 9th graders- Midterm advice

(Story/Media)

Nov 25, 2019

On sale this Black Friday: the outdoors

(Story/Media)

Nov 18, 2019

[RESTAURANT REVIEW] Hot Hands takes the pie

(Story)

Nov 13, 2019

U.S. will officially withdraw from Paris Climate Agreement

(Story)

Nov 05, 2019

Mississippi water levels are the highest they've been in years

(Story/Media)

Nov 04, 2019

Weight room gender imbalances

(Story)

Oct 09, 2019

Greta Thunberg vs. the thousands of people who came before her

(Story)

Sep 27, 2019

[PHOTO GALLERY] Annual lip sync competition brings audience to their feet

(Story/Media)

Sep 24, 2019

"Save the turtles" and the plastic straw phenomenon

(Story/Media)

Sep 23, 2019

Alumni/ae show explores how graduates create art

(Story/Media)

Sep 17, 2019

New staff focuses on learning athletic culture

(Story/Media)

May 25, 2019

Golf teams enjoy unique course

(Story)

May 10, 2019

Science proves that typing notes is killing your grade

(Story/Media)

May 08, 2019

PEP plants for pollinators

(Story)

Apr 24, 2019

[BOOK REVIEW] Multigenre mystery makes Where the Crawdads Sing remarkable

(Story)

Apr 19, 2019

[PODCAST] Is animation the future of drawing?

(Story)

Mar 22, 2019

Recycling? Maybe. Reduce, reuse, rot instead.

(Story)

Dec 18, 2018

Violence at U. S. / Mexico border spurs debate

(Story)

Oct 27, 2018

Influences of climate change felt worldwide

(Story/Media)