SDLC assembly provokes reflection and vulnerability
Last month, six upper school students attended the Student Diversity Leadership Conference (SDLC), a four-day event gathering about 1,000 students from both in and out of the nation. The event took place in San Antonio, Texas from Nov. 30 to Dec. 3. The conference was centered around building community, allyship and reflection of identity; and all students at the conference attended independent schools such as SPA.
Three sophomores and three seniors attended SDLC in December. The students, Harper Glass, Julia Taylor, Mariam Malik, Julia Colbert, Maryeva Gonzalez, and Maya Coates Cush, facilitated an assembly for upper school students and faculty Monday morning.
The six students had a few meetings over the phone in order to brainstorm and generate ideas for the structure of the assembly. Drawing from activities and exercises they had partaken in during SDLC, they decided to plan the assembly as interactively as possible. The planning process unfolded over the course of a week.
"We wanted to incorporate what the students felt about SPA, and just specific questions we talked about and prompts we talked about at SDLC. We sent out a form to be able to incorporate and talk about direct student responses so it can connect more to the audience," Taylor said.
"We definitely wanted something that was a little bit more personal," Coates Cush added. She explained how the students wanted to create something "that was meaningful and made people do something with the information."
At the beginning of Monday's X-period, upper school students and faculty mingled in the Huss Theater. Immediately after students settled into their standard assigned seating, they were told to move somewhere completely new next to someone they did not know closely. As students began standing and shuffling through the aisles, chaos spread throughout the theater. Some students followed the given directions while some switched seating location but remained with their friends.
The assembly leaders then gave brief introductions—including why each student chose to attend SDLC and what activities they participated in at the conference—then, they displayed a slide deck presentation with five questions regarding identity in relation to feeling comfortable and accepted in the SPA community. The questions were sent out to students over the weekend in preparation for the assembly, and students anonymously wrote answers to them. After each question was displayed, a few of the anonymous pre-submitted answers were read aloud. The audience was then asked to silently reflect on their own answer until they were prompted to discuss it with the people around them.
"
I hope that people are thinking about what we talked about and are listening to those voices that were from our student community.
— Maya Coates Cush
"Honestly, I looked at the audience, I saw people talking, I saw people sitting next to … different people … and it was just nice to see diversity of different grades," Taylor said as she reflected on the audience's receptiveness to the activity. She said that students took the assembly's activities more seriously because they were sitting next to people they did not know.
Coates Cush urges students to reflect on the conversations they had during the assembly and take them to heart.
"We wanted to educate the community and have the community take things away from the assembly. And, you know, I hope that people are thinking about what we talked about and are listening to those voices that were from our student community," she said.
The assembly closed out after some of the six students read out anonymous messages that students submitted in a Google form over the weekend. The messages covered vulnerable experiences and suggestions for the school moving forward.
Of the many lessons and insights Coates Cush left SDLC with, she noted that the concept that diversity, equity and inclusion (DEI) work is not only race-based stood out to her. She explained how DEI work is often associated with the inclusion of people of color, but how it needs to be understood as so much more than that.
"It's also about ableism. It's also about how we're treating people of different genders and sexualities. It's also about socioeconomic status," she said. "It's more than just one concept. It's many."
Taylor explained that one of the most impactful activities of her SDLC experience was an activity she did in her family group, a group based on a shared core identifier of the students involved. Each member created a drawn representation of a moment they were discriminated against, isolated, or made to feel uncomfortable due to one of their core identifiers when they were younger. The visual depiction of this negative moment allowed Taylor to better reflect on the steps to take in order to reconcile with the event as well as process the emotions the experience evoked.
"It was a whole new perspective. Even more than talking about it, like, 'Oh, this is really what happened. This is how I felt.' [It] helped me realize the emotions I was feeling and some solutions to be able to solve that. Being able to see pictures of people's experiences—how they would draw it rather than just speaking—was another way to comprehend and understand and be able to relate with someone," Taylor said.
Today, students discussed their takeaways from the assembly during X-period with their advisories.
Leave a Comment
About the Contributor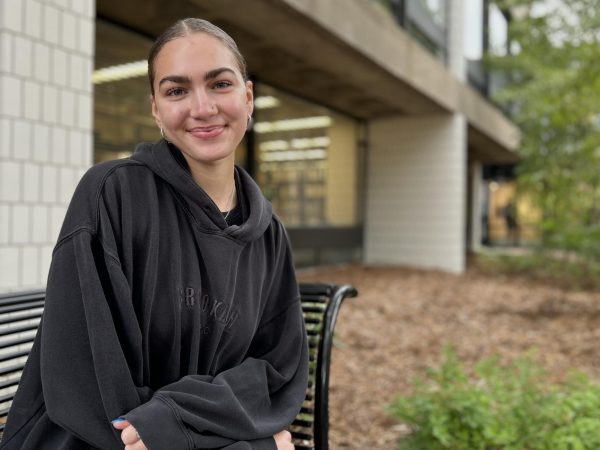 Clara McKoy, Director of the Rubicon Online
My name is Clara McKoy (she/her). I'm the director of The Rubicon Online. At school, I'm involved in Community Action and Service Club and Senior...