Gonzalez finds creativity amidst COVID-19
Almost every part of the art industry from film to sculpting, has had to find innovative ways to work around the limitations created by COVID-19. But while professional industries are figuring out how they can continue, creating art has been a productive outlet for many people during isolation. Whether that be learning to knit, writing poetry, taking up photography, or any other form of artistic expression.
Sophomore Maryeva Gonzalez has been drawing and creating digital art for a long time. Her interest in art is evident in her Instagram feed which showcases various doodles and digitally drawn characters.
"I usually draw traditionally or digitally and occasionally paint. I don't have a specific style, although if I had to say it would be more cartoonish. The inspiration behind my art is usually varied. Usually I draw something based on a show or movie that I watch or a book I have read," Gonzalez said.
Gonzalez works on most of her art at home in her bedroom.
"I usually work on my art in my room, either at my desk or on my bed. I feel most creative earlier in the day because I'm less tired and it's easier to focus on something," Gonzalez said.
Because of this, when COVID-19 isolation began in March of this year, it wasn't a barrier. Instead, it pushed her to create more art and step outside of her comfort zone.
"I've been drawing more because of COVID and I probably wouldn't have started trying other mediums like painting if we hadn't been in lockdown," Gonzalez said.
More of Gonzalez's art can be found on her Instagram (@m.gonzzz).
Leave a Comment
About the Writer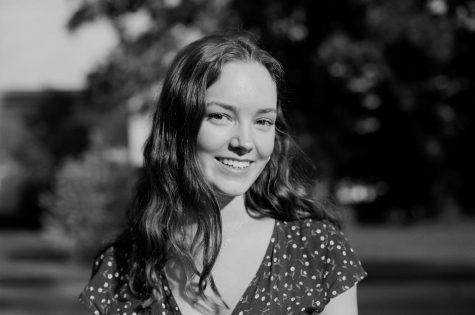 Liv Larsen, Feature Editor
Liv Larsen is a Feature editor on RubicOnline. This is her fourth year on staff. She has been staying busy during the pandemic by watching (too many) movies,...