Schilling Center Groundbreaking Ceremony excites students
Hundreds of students surrounded the work site of the Hugh K. Schilling Center on Sep. 25 to celebrate the construction of the new Math and Science Center. Schilling's generous gift of $15 million is the largest donation ever made to an independent high school in Minnesota, which will go into creating one of the most advanced STEM environments in the Midwest. Technically, the "groundbreaking" took place many months ago, as construction of the building is well underway, but Monday's groundbreaking was a celebration of Schilling and his gift to SPA. 
"It means a lot to him [Schilling] to have these types of events," said Anne Walle, the Events and Stewardship Administrator in the Advancement Office, who coordinated much of the ceremony.
"
It means a lot to him [Schilling] to have these types of events.
— Anne Walle
The ceremony commenced with a brief speech from Head of School Bryn Roberts. He thanked Schilling once again for his tremendous gift, and explained the significance of a groundbreaking ceremony. Schilling, Head of School Bryn Roberts, Board of Trustees Chair Tim Welsh, and USC co-presidents Emilia Topp-Johnson and Numi Katz had the honor of performing the groundbreaking. Five golden shovels and a large pile of dirt were displayed beneath a portable tent. The five groundbreakers synchronously took scoops of the dirt and threw it before them.
After the groundbreaking, Roberts discussed the significance of the topping-off beam, the last metal beam to be added to the structure of the building. The white beam was decorated with the names of the class of 2018, as they are going to have been present for all of the construction of the wing, but have little of the benefit. A crane lifted the beam to the top of the building as students cheered in excitement.
Schilling announced his donation to the school on Sep. 13 at an assembly during x-period last year. Since then, portable classrooms have popped up, an entire wing has been demolished, and progress on the new wing is becoming apparent.
Leave a Comment
About the Contributor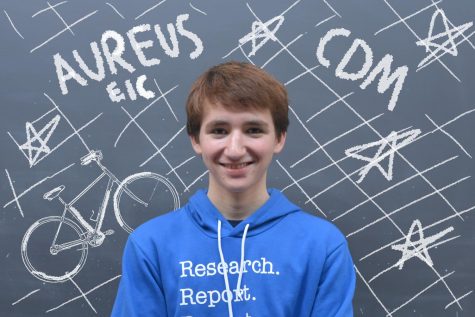 Noah Raaum, Aureus Editor-in-Chief
Noah Raaum is the Creative Design Manager of RubicOnline and the Editor in Chief of Aureus feature magazine. This is his fourth on staff. He is excited...