[WORK/LIFE] Combining skills with passion: how Philip Skulte established Visual Captive
Almost a month before the pandemic hit in 2019, Philip Skulte left his corporate job to start a production company: Visual Captive.
"That was a wild time to start a business but I think it can be pretty easy to start a company in terms of you know, building a website or registering a business with the local government," Skulte said.
Skulte went to business school, majoring in finance, and had been working corporate jobs for the majority of his life. In high school, he was interested in videography but it felt more like a side hobby than a central role in his life, so he decided to make a change.
"I was trying a lot of different things and I think I got to the point that I was just very unhappy with my corporate career. I just wasn't feeling very inspired, and untimely what pushed me to say, let's do the creative stuff that you've always wanted to do" Skulte said.
When Skulte was younger, he was interested in photography. Over time that passion shifted to videography as drones and GoPros became more popular. Experimenting with equipment and the process of editing video together, Skulte made travel videos and began to learn what film was all about.
Going into college Skulte wasn't completely sure where he wanted his career path to go, but the problem solving and analytics side of business school had been appealing.
"
I was trying a lot of different things and I think I got to the point that I was just very unhappy with my corporate career. I just wasn't feeling very inspired, and untimely what pushed me to say, let's do the creative stuff that you've always wanted to do"
— Philip Skulte
His father, who also worked in finance, encouraged him to try business school as a way to combine photography into a job, but out of college he became immersed in the corporate world, paying less attention to his creative side. After a few years, he decided to leave his corporate career, and start his own company, producing and marketing videos.
"I'd say a third of [my job] lives in a sales role of trying to contact businesses and make sure they know we exist. The rest of the time is working on client projects, and there's also some time in there for self-education. It's one of those fields that you have to continue to hone your craft whether that's watching youtube videos or researching what new camera technology is out there or just experimenting with lighting and different shots" Skulte said.
The majority of the projects Skulte and his team work on are for larger companies. The corporate and commercial projects they are hired to create are oftentimes designed to showcase a company's philosophy or operation or to market a product or service of that company, depending on the client's vision. Skulte explained that while the more creative projects like music videos tend to be fun to work on, Visual Captive focuses on producing content that helps other businesses grow.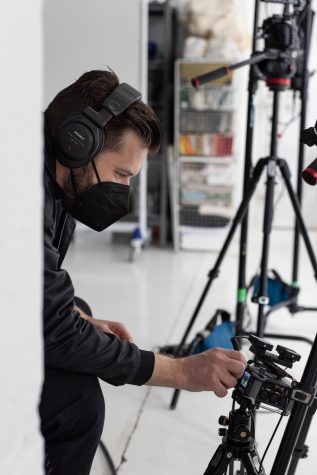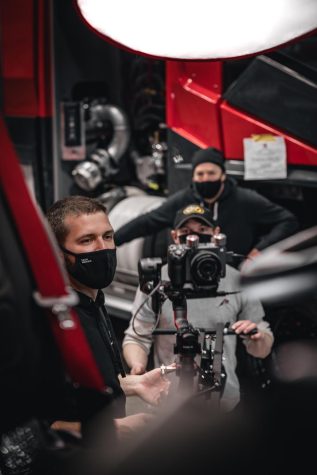 "A lot of [my job] is more of the managerial side of managing projects, making sure we deliver them. The creative fun stuff like filming is really exciting, but that might only take a day [of filming] and then the next two weeks we might spend editing the project" Skulte said.
Depending on the clients and the project filming can look really different, which can alter the types of things Skulte gets to work on, and the people he needs to hire in order to achieve the visuals they are looking for. For larger projects, he oftentimes hires other freelance videographers to help with the production. In the summer months, he typically receives more clients because of how the seasons shift, and how that can play a role in the videos they can produce.
"Sports can be easier to do because it might just be me and a camera, or two people and a camera. If we're doing something such as a high-end corporate interview, sometimes we bring in 10 people because there's just so much to capture. If we're doing a lot of interviews, we'll have a makeup artist there. We'll have multiple people operating cameras. And the lighting can be really complicated" Skulte said.
As far as equipment goes Skulte and his team primarily use Sony FX6 and FX3 cameras, and a mix of Sony and Sigma lenses. Sony cameras are designed with high-quality autofocusing technology that allows for autofocus tracking on subjects. This allows smaller crews or producers working alone to keep up with competition from larger companies.
"If you look at a short film set or even a large movie set out in LA there are entire people who are dedicated to just keeping a shot manually focused. They're called a first AC (assistant camera) and their whole job, or one of the main parts of their job, is to focus the lens. But, that means you have to pay an extra person to be there for the whole day" Skulte said.
Skulte encourages students to explore the things they are interested in, being open to shifting their original plans. While those around you may seem confident about the direction they are headed in life, Skulte believes that they aren't always as certain as they think. Being curious, exploring a diverse range of classes, and overall receiving a well-rounded education will help combine passions and skills to be as successful as possible.
"Use the time you have now, and then in college, to try a lot of things. If you ever get that feeling in your stomach of being jealous of someone, ask yourself, are you jealous because you want to try what they're doing? Do you want to change your majors or try that activity? I think, lean into those feelings of curiosity. I would definitely chase it down … You can always change your life at any age, but I think it does get harder the older you get" Skulte said.
WORK/LIFE is a feature series that offers an inside look into future careers students might consider. 
Leave a Comment
About the Contributor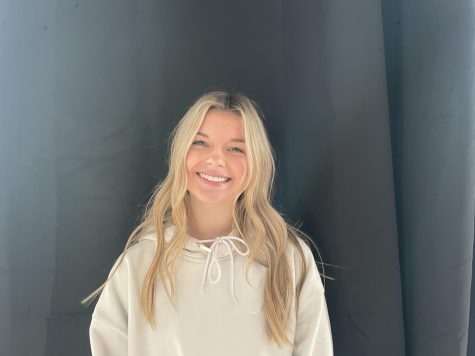 Hazel Waltenbaugh, News Editor
Hi!! I joined The Rubicon as a Sports Editor during my sophomore year. Junior year I started as the News Editor for our print section, and for my senior...