Suds and sun: CAS hosts car wash for AAPI month
On Wednesday night, the Community Action and Service Club hosted a car wash at the Upper School. Students or faculty who needed a rinse and a scrub headed to the Huss Center parking lot, where club members hooked up a hose and came supplied with soap, glass cleaner, sponges and towels.
At the event, CAS members were buzzing with excitement as the warm sun beamed down on them and upbeat music blasted from a large speaker. Nadia Degnan, the club's PR/social media manager, shared her enthusiasm: "I'm really excited to be able to help out the community and also bring in [customers] that don't even go to SPA," she said.
The car wash was a labor of love that involved lots of hard work by CAS leaders and members. The last two club meetings of the school year were dedicated to planning this event, which involved everyone's help to brainstorm ideas, organize supplies, and reach out to administration and maintenance staff for approval.
Treasurer Kate Hanf said, "We divvied up tasks. Everyone is bringing towels. I bought some simple green concentrated car soap which is good for the environment."
The car wash fulfills one of the CAS leaders' goals to increase engagement with the community through more organized service projects and fundraisers. "We're really excited for the upcoming year and making service more omnipresent at SPA," co-president Audrey Senaratna said.
The pricing for the car wash was $10 for small cars and $20 for big cars. CAS raised $390 from washes and additional donations. All of the money will be split between the nonprofits Asian Women United of Minnesota and the Amherst H. Wilder Foundation, in honor of Asian American and Pacific Islander Heritage Month.
"
We're really excited for the upcoming year and making service more omnipresent at SPA.
— Audrey Senaratna
Senaratna said, "We've done themed [fundraisers] in the past, so we thought it would be a fun pattern to keep up with, and it also brings awareness to more local organizations that help AAPI families in our community."
Asian Women United of Minnesota serves victims of domestic violence with a focus on Asian women and girls. The organization fights for a life free of abuse for everyone and believes that Asian victims deserve services that recognize, respect, and account for their culture.
The Wilder Foundation specializes in programs for children, adults and families such as childcare, housing assistance, mental health services, and senior living services. The foundation also focuses on maintaining and bettering equity and diversity in the Twin Cities community.
Overall, the car wash was a success in bringing members of CAS and the broader SPA community together in support of AAPI month. CAS hopes to plan more events like this next school year.
Leave a Comment
About the Contributor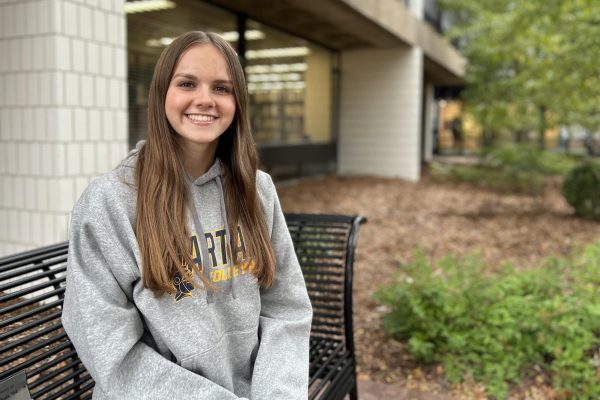 Eliana Mann, Production Manager
My name is Eliana Mann (she/her). I work as the Production Manager for The Rubicon online, and this is my fourth year on staff. At school, I'm a captain...