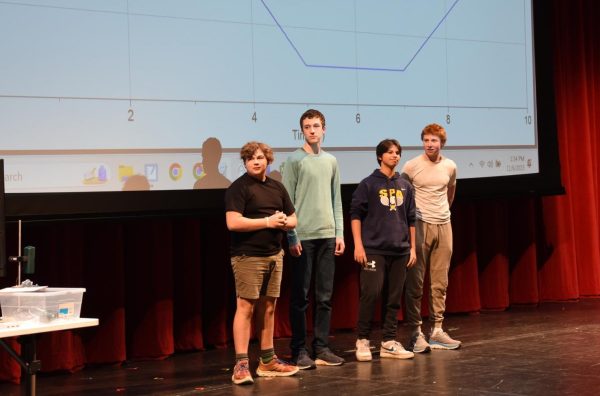 The crowd roars and '80s rock music plays; the Huss Auditorium filled with students of all grade levels cheer on contestants for the annual ninth-grade graph matching competition. Isaak Senaratna won the graph matching competition, taking the win for his period two Physics 9 class.
Graph Matching is a part of the ninth-grade curriculum and involves learning how graphs work by walking a graph and seeing how the slope reacts on the screen. Logger-Pro, the software used, gives a score based on accuracy. The contest consists of students from each period competing to be their class representatives and then going to the big stage to show their skills.
This heated match-up originally contained seven students in the first round, four in the second, and in the finals, two remained: Senaratna and Griffin Roy. There were cheers from the crowds from both 9th-grade and Physics 9 alums. The student spectators encouraged and upped the contestants' spirits. They gave tips and tricks to the ones on stage on where to start and how to move. These suggestions led many contests to better or worse scores.
"
Every day just looking at a graph… understanding [it], [moving] back and forth.
— Isaak Senaratna
Senaratna, enjoying his triumph, reflected on what led him to this point: "Every day just looking at a graph… understanding [it], [moving] back and forth," Senaratna said while his friends cheered him on after his victory. Senaratna will now receive bragging rights and his picture on the wall next to previous graph-matching champions.
Paloma Good, a sophomore, had fond memories from the previous year when Maren Overgard won. Good decided to return during her free X-period to watch. "I'm just super hyped to be here," Good said.
A fellow freshman, Aliza Bray, attended the competition to support her peers. Both students were excited to be there and enjoyed the energy in the auditorium.
Scott Hovan, a Physics 9 teacher and co-founder of the graph matching competition, said, "I love that when the student does a great job matching the graph, the roar that comes from the audience is amazing." Going forward, Hovan hopes to open the graph matching contest to the seniors who were unable to participate due to COVID-19 and encourage more students to give their best at the competition.