First female Eagle Scout, Tunney offers inspiration for all
Junior Isabella Tunney: the first female Eagle Scout. Yes, that's right. She's the first female to become an Eagle Scout. The Boy Scouts of America announced an inaugural class of female Eagle Scouts rather than an individual, and this class consists of women who earned their Eagle Scout merit from Oct. 1-30. Since Tunney earned her Eagle Scout merit on October 1, she is among the very first women to earn hers.
"I joined the Boy Scouts of America on Feb. 1st, 2019; [it was] the first day girls were allowed to join," Tunney said.
Tunney was influenced to join the program by her brother Eugene: "I got to see all the fun activities he was able to do with his troop. As I grew older, I was able to see how the program impacted him and helped become the person he is today, and I wanted that for myself," she said.

Made with Visme Infographic Maker
Tunney is the founder of her very own troop, #5384. The troop is an all-female group made up of eight scouts. They are connected to a boys troup, with whom they collaborate often. As a scout, Tunny has earned all 137 merit badges.
"
Just because something hasn't been done before doesn't mean it isn't possible."
— Isabella Tunney
Before the COVID-19 pandemic, Tunney as well as 11 other scouts from around the country represented the Boy Scouts of America by presenting the 2019 annual report back in March to Speaker of the House Nanci Pelosi, Senator Mitch McConnell, Senator Tina Smith (D-MN), and President Donald J. Trump. Tunney describes this experience as "an incredible opportunity."
She said, "I would absolutely recommend that other girls and boys try the program."
Tunny added, "Over the course of the past year and a half, I have had a blast, learned so much, grew immensely, and became someone I am really proud to be."
Being a member of the first inaugural class of female Eagle Scouts and the first female Eagle scout to earn all 137 merit badges, the most important lesson Tunney has learned is that "Just because something hasn't been done before doesn't mean it isn't possible. Even when you think you have done your best, there is so much more that you are capable of, so you should always try harder and strive to be the absolute best version of yourself possible."
About the Contributor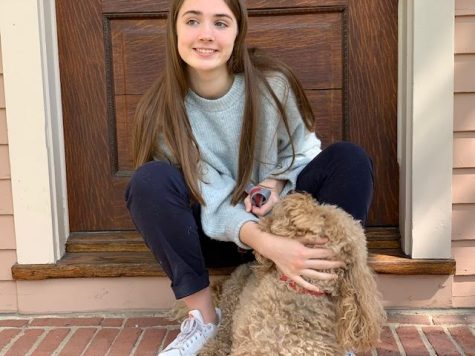 Alexandra Cardwell, A&E Editor
Alexandra Cardwell is an Arts and Entertainment Editor on RubicOnline. This is her first year on staff. While at home, she's been on several family walks,...