Seven poets vie for Poetry Out Loud win
"I language want to dress my fancies in…" recites senior Noa Carlson, the defending state contender for Poetry Out Loud, at the school contest on Nov. 15.
Seven Upper School students presented one poem each in the Driscoll Family Commons to an audience packed with advisories during X-Period.
US English teacher Philip de Sa e Silva welcomed everyone to the competition and introduced each performer before their recitation.
de Sa e Silva and fellow English teacher Claire Wahmanholm coach the club. Although not everyone may need a coach, they are still present as advocates for each student and a source for positivity and feedback.
"Mr. de Sa e Silva and I work closely with the students at every stage of the process: when they're choosing which poems to recite, when they're unpacking the meaning of a poem, when they're figuring out how best to perform it," Wahmanholm said. "It's our job to provide a space and audience for the kids to mess around with poetry. It's one of my favorite things I do on campus."
Students were judged on the quality of their delivery and performance. After each student recited their poem, the judges recorded their critiques and scored each performance.
"
It's our job to provide a space and audience for the kids to mess around with poetry"
— Claire Wahmanholm
The first student to recite was Senior Noa Carlson. The poem was An Apology For Her Poetry by Duchess of Newcastle Margaret Cavendish, before she went on to deliver the piece.
Following Carlson were juniors Mimi Geller with "One Art" by Elizabeth Bishop, Zoe Hermer-Cisek with Tarantulas on the Lifebuoy by Thomas Lux, and Chloe Morse with What lips my lips have kissed, and where, and why by Edna St. Vincent Millay. The competitors continued alphabetically, with juniors Lily Nestor delivering The Bookshelf of the God of Infinite Space by Jeffrey Skinner and Elise Parsons with "Testimonial" by Rita Dove. Senior Mira Zelle was the last to perform with Ode to the Midwest by Kevin Young.
Students practiced after school in preparation for the event. Each student practiced different components of the overall performance such as their speed, level of emotion, accurate memorization and enunciation.
After two rounds, senior Mira Zelle and junior Elise Parsons will compete at the state Poetry Out Loud contest, held in March at Open Book in Minneapolis.
This story is reprinted from The Rubicon print edition: Nov. 21, 2017.
Leave a Comment
About the Contributor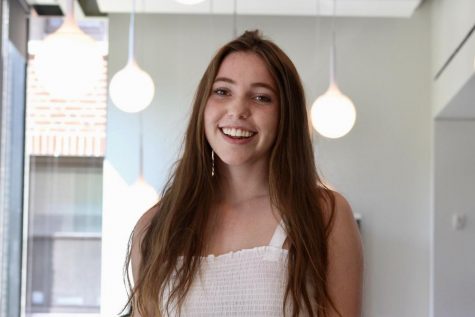 Claire Hallaway, Photo Story Editor
Senior Claire Hallaway is excited to start another year on the Rubicon as the Photo Story Editor. This is her fourth year on staff. Previously, she served...