Opinion Board sparks discussion about graduation attire as USC's revision makes its way to Head of School
For years, it's been a tradition for seniors to wear blazers, dresses, or pantsuits at graduation. However, with a recent proposal made by Action for Gender Equality Club Co-presidents Maggie Baxter and Spencer Burris-Brown, discussion has aroused about whether the current graduation attire requirements should be updated for more inclusivity.
Burris-Brown said, "We began by proposing just the second option (b) [any type of formal attire in any combination of colors] to Principal Collins in a meeting with her. [Collins] She seemed open to the idea of changing the dress code but remarked on how the appearance of unity offered by the current dress code was important for both the administration and parents. Options (a) [any type of formal attire in any combination of white, cream, and navy,] and (c) [caps and gowns, with the option to wear formal attire in any color underneath for after the ceremony] were attempts to compromise with the desire for a unified look."
After a fruitful meeting with Upper School Principal Theresa Collins, Baxter and Burris-Brown's proposal continued to be the talk of SPA as it made its rounds onto the Opinion Board where students were encouraged to interact with the issue through an anonymous voting poll that was made available as a QR code.
As Baxter and Burris-Brown's proposal gained traction within the student body via the Opinion Board, it has also attracted attention from the Upper School Council. USC Co-president Sophie Cullen said, "Naturally after Action for Gender Equality put this up USC wanted to take action on this because its something that USC has dealt with before and we had to address. We talked about it during our council and voted on an anonymous form after. The results of the vote were really close but the majority was not in favor of pursuing the cap and gown option. However, there was a significant majority that wanted to pursue some kind of change to the wording of the current requirements to just formal wear instead of three distinct options. That's what happened and we've formed a sub-committee to writing a proposal in favor of changing the current requirements to formal wear in general. We should be voting on it soon."
Most recently on Tuesday during elected selecting meetings, the USC sub-committee has indeed successfully voted in favor of the drafted proposal that calls for changing graduation attire to just formal wear in the navy, white color scheme. As a consensus has been drawn, USC will now work towards pitching the idea to the Head of School Bryn Roberts where a final decision will be made.
Although seeing a long-lasting graduation tradition disappear can be wistful for some, Burris-Brown believes that attire changes are essential. He/they said, "These explicitly outlined outfit options have heavily gendered connotations [current graduation attire], from their style and leave little room for individual expression, something supposedly valued by SPA, because of the color limitations for each article of clothing. Also, expanding the options, both in terms of clothing type and color, makes it easier to put a graduation outfit with already-owned clothing; buying a new formal outfit purely for graduation can be very financially prohibitive."
Besides Burris-Brown, other SPA members have expressed their opinions on this matter as well. Senior Esther Allen said, "I think that with the time, it's right for us to see a change in graduation attire. But I'd prefer to stay away from cap and gowns because it's been part of SPA's tradition for a long time. Instead, I think it would be nice to stay with the formal wear option in white or navy because it allows for more expression but still creates a sense of unity within the class."
This year, the class of 2022's graduation will be on Sunday, June 5.
What do you want as graduation attire?
Sorry, there was an error loading this poll.
Leave a Comment
About the Contributor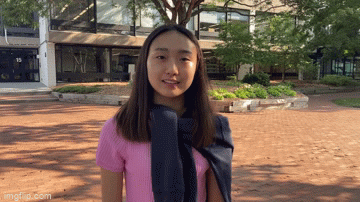 Elle Chen, co-Director of RubicOnline
Elle Chen (she/her) is a co-Director of RubicOnline. This is her fourth year on staff. Over the summer, Elle interned at NSPA to help plan journalism conventions,...