Omar talks foreign policy and historic first term
Chants of "send her back!" erupted at one of President Trump's rallies last July. Now, Congresswoman Ilhan Omar — who represents Minnesota's Fifth Congressional District — has spun it into the slogan for her reelection campaign: "Send her back… to Congress!"
After being catapulted into the spotlight as the first Somali-American elected to Congress in 2018, Omar launched her reelection campaign Thursday night.
Joined by local politicans — Minneapolis City Council Vice-President Andrea Jenkins (the first openly transgender woman elected to public office in the United States), Minnesota Attorney General Keith Ellison (who preceded Omar as the 5th District Representatives in the House), and Minnesota State Senator Carolyn Laine — Omar made it clear that she isn't "running for re-election because I enjoyed being the first," but because she wants to "fight for everyday people, working-class people, poor people and every single person who lives on the margins of our society."
Appointed to the House Committee on Foreign Affairs by Speaker of the House Nancy Pelosi, Congresswoman Omar takes an "inclusive" approach to foreign affairs. In a one-on-one interview after the event, Omar said that "the first interaction that people [in foreign countries] would have with an American used to be through the Peace Corps, and so they associated people who help you read and write and gain useful tools with Americans — there was a generation that had very warm feelings [towards our country]. Now, you have a generation that when you say America, all they associate them is with soldiers, because now we have all of these military bases, we have all of these people who are a representative of the United States […] and are seen as part of that conflict, and so that […] hardened this negative sentiments about us."
To combat that negative sentiment, Omar proposes a new foreign affairs plan that focuses on partnership and cooperative development with foreign nations, instead of strong-arming domestic affairs in other countries through direct intervention. "We're going to have more focus on the development piece and what it would look like if we had real partnerships with countries […] what it looks like for us to actually utilize diplomacy," she said, "and I've asked Secretary Albright: instead of using crippling economic sanctions, instead of going to war, do we have tools in our [diplomacy] toolbox, and she said yes. But muscle memory oftentimes drives our foreign policy. It is easy for us to be like a muscle man, the strong America. But, we get more when we are using the tools in our diplomacy toolbox. When we are creating development opportunities," she said. 
"
It is easy for us to be like a muscle man, the strong America. But, we get more when we are using the tools in our diplomacy toolbox.
— Ilhan Omar
With personal experiences informing the change she wants to make, Omar shared that her "grandfather had extremely positive sentiments towards America — almost really flowery ideas about what this country was about […] so I want to make sure that there are more people like my grandfather who see us as the country who cares about the rest of the world, who will invest in the rest of the world."
In the aforementioned one-on-one interview, Omar shared that one thing that surprised her in her first term was the travel: "I've said to Keith Ellison that he should have warned me about the travel, instead of warning me about all of the other challenges because everything else I can handle. I really don't like being on planes as much as I am on planes and I really don't like being away from my kids as much as I am."
Omar also noted that she is "looking forward to being able to get hearings and pass many of our landmark policies like homes for all and student debt cancellation." 
Finally, she shared that one of her proudest moments in her first term was "becoming the whip of the Congressional Progressive Caucus, [because] it brings me so much joy to be able to have conversations and bring people to a place where they are either going to fight as hard as I want to fight against the bill that is going to have a negative impact on our lives, or fight as strongly for a bill that will bring about positive change for the people that we represent."
Leave a Comment
About the Contributor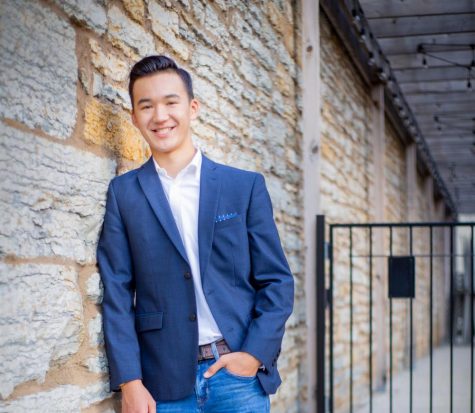 Nikolas Liepins, Political Correspondent/Contributor
Nikolas Liepins is the Political Correspondent and a writer/(photo)journalist for The Rubicon, RubicOnline, and Ibid Yearbook. This is his second year...