Noor Qurieshy named Al Neuharth Free Spirit scholar
Junior Noor Qureishy had an early start in journalism. She produced a family newspaper which included a news section as well as a comic each month. Today, Qureishy's journalism spirit continues to flourish as part of The Rubicon Staff.
"Back then I didn't understand the impact that journalism could make on what was going on in the world. I just thought it was a really flashy job… you would get to travel and meet important people all over the world. For me It was the equivalent of being an actress or a detective." Qureishy said.
Qureishy was selected to be Minnesota's representative at the Al Neuharth Free Spirit Journalism conference, among other rising twelfth grade representatives from each state across the nation. She will attend an all expenses paid trip to Washington, D.C. where she will attend the conference from June 18-25. At the conference she will attend sessions with experienced journalists, who will give lectures on all aspects of journalism. As Minnesota's representative, Qureishy will receive a $1,000 scholarship to a college of her choice.
"Being a journalist is definitely one of the things that I'm considering to do in my future." Qureishy said.
The Al Neuharth Free Spirit and Journalism Conference recognizes high school juniors who clearly demonstrate qualities of a "free spirit" through their journalism. The free spirit program began in 1999 in honor of the founder of USA Today, Al Neuharth. Being able to express feelings and thoughts freely meant a lot to Neuharth, and his legacy continues today through this program.
"The point of the conference is to provide resources for students who want to go into a journalism career in the future, and to help and inspire them." Qureishy said.
Qureishy had just gotten into a car accident when she found out that she was Minnesota's "free spirit" representative.
"I had broken my nose, and I was sitting in my crashed car where I was waiting to get picked up. I decided to read my email, and that's when I saw it. It was so surreal for me." Qureishy said.
Qureishy wants to make a difference in the world, whether it be through her journalism or another portion of her life, the Al Neuharth Free Spirit conference will help her to do just that.
Leave a Comment
About the Contributors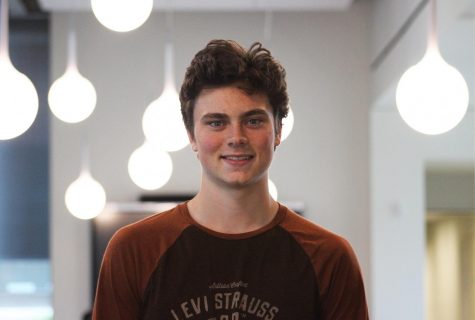 Jasper Green, In-Depth Editor
Jasper Green is the In-Depth Editor for the 2018-2019 season of The Rubicon, and it is his fourth year on staff. Green believes in the power of sharing...
Dianne Caravela, Feature Editor
After spending last year completing Writing for Publication I and II and working as a staff writer for The Rubicon, sophomore Dianne Caravela is super...