In address to students, Huss thanks Summit School, inspires generosity
On Jan. 17 during x-period, a special assembly was held in the Huss Center to honor the generosity of Ruth and John Huss. Ruth Huss, graduate of the Summit School class of 1957 and 2018 Distinguished Alumni recipient, spoke to the school after a warm welcome and reminder of the school's mission from Head of School Bryn Roberts.
Huss's deep connection and relationship with St. Paul Academy and Summit School have been long and impactful — many ways in which students never noticed. Her passion for community service began very early on in her career at the Summit School.
"I'm standing here today in this beautiful facility and am thankful to this very school which helped me form the foundation of my life," Huss said.
She said that service was a foundational part of learning at the Summit School and where she found her love for helping others.
"I had many found times at the Summit School including the Halloween parties and the father-daughter dance. But, what I truly took away from my time here is instilled a sense of personal responsibility to society," Huss said.
Named the 2011 Twin Cities philanthropists of the year, Ruth and John Huss's generosity has become apart of their legacy across the Twin Cities.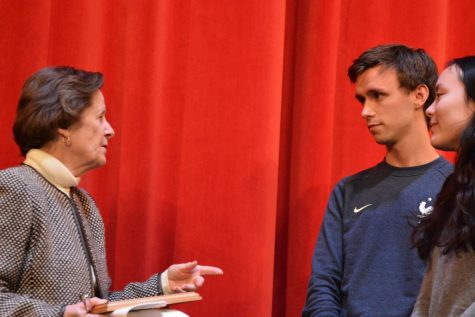 But Huss, despite all her achievements, explained that everyone has the ability to help others.
"Community service is a collaboration; when you help others you can actually end up helping yourself. Recognize in yourself and all that you do," Huss said. 
With her final words, the Huss Center erupted with applause and a standing ovation. Closing comments where made by seniors Max Moen and Gemma Yoo, who were among the first class to experience the benefits of the Huss Center.
"The Huss Center has been a home for me these last four years and it has been a pleasure to see how our programs in the performing arts have blossomed," Moen said.