First COVID Cases at School
It is no secret that COVID-19 cases are rising consistently throughout the nation. Saint Paul Academy and Summit School, while taking plenty of precautions, has inevitably been impacted by COVID-19.
Prior to this past week, there have been three total cases in the community. In a detailed email to the SPA community from Principal Delgado, it was announced that there were two positive cases on the Randolph Campus. SPA has gone above and beyond to accommodate for the virus, from individual desks to constant disinfection of high-touch areas. While two members of the community fell ill with COVID-19, Delgado stated that there was no imminent risk to the school. "The risk of exposure for other individuals present in the building on that date is no greater than the risk of contracting the virus in the general community. MDH indicated that this is a low-risk community exposure," Delgado said.
More recently, the Girls Varsity Volleyball team was touched by COVID-19. One of the coaches contracted the virus, which caused the whole team to quarantine for two weeks. On a similar note, students at The Blake School of Excellence have contracted COVID-19. While this has no immediate impact on SPA, the two schools are a part of the SMB Wolfpack, a co-op football team. If one of the Blake players on the team tests positive for COVID-19, the whole team will likely need to quarantine, and contact tracing will take place, possibly touching the SPA community.
In response to the rise in cases in the county, Head of School Bryn Roberts announced on Tuesday, November 3rd that both the Middle and Upper Schools will transition to Distance Learning starting Monday, November 16th. "Despite this success inside the confines of SPA's campuses, we believe that the county number will continue to rise in the coming weeks. As such, we will transition our Middle and Upper Schools to full Distance Learning beginning on Monday, November 16th," Roberts said. Even though the school has given its best effort to accommodate to COVID-19, Roberts and the administration decided it would be best to transition to distance learning for two months. "These divisions will remain in Distance Learning through at least the first two weeks after Winter Break, and our tentative plan is to move the Middle and Upper Schools back into hybrid on Tuesday, January 19, 2021," Roberts added.
Upper School Academic Dean Thomas Anderson emphasized the importance of safety both at school and for students away from campus, "Remain committed to the safety protocols such as masking and social distancing as put in place by the school and community institutions. As the pandemic continues, it would be easy to get complacent or fatigued by the measures." Anderson said. COVID- 19 cases are on the rise nationally, statewide, and in Ramsey County. In just the past month, COVID-19 cases in Ramsey County have increased by over two thousand daily cases, from 1,390 on October 9th to 3,926 on November 9th.
"Students should be thinking not only about their own health and well-being, but the well-being of others in their families, their schools and houses of worship, and the larger community as they practice disease mitigation efforts," Anderson concluded.
Leave a Comment
About the Contributors
Thomas Reinhart, Sports Editor
Thomas Reinhart is a Sports Editor on RubicOnline. This is his first year on staff. Some of the things Thomas has done during this time include playing...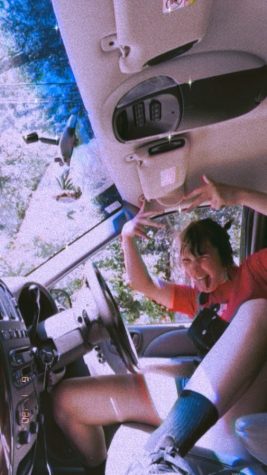 Adrienne Gaylord, Feature Editor
Adrienne Gaylord is the Feature Editor on The Rubicon. This is her second year on staff. In recent times she has been seen biking around South Minneapolis...