Election Week 2020: A Timeline
As polls closed on Nov. 3, the world was thrust into the waiting game. For the next four days, individuals and nations alike tuned in to see "chartthrobs" like MSNBC's Steve Kornacki tirelessly update their magic map with possible electoral outcomes for the states yet-to-be-called. On Nov. 7, many major media outlets projected former Vice President Joe Biden and Senator Kamala Harris to win the 2020 Presidential Election, consistent with SPA's Government and Citizenship class' prediction but differing in exact electoral count. In the end, it all came down to Nevada, Arizona, Pennsylvania, Georgia, and North Carolina. With the gift of hindsight, let's recap the happenings of the past week:
All hours are in Central time.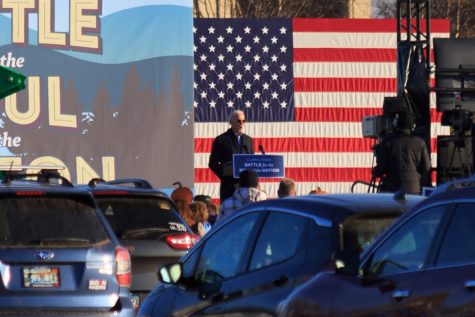 FRIDAY, OCT. 30, 2020
Friday before Election Day
Biden holds a drive-up rally at the Minnesota State Fair grounds in St. Paul, MN. Meanwhile, President Donald Trump rallies supporters in Rochester, MN.
MONDAY, NOV. 2, 2020
Day before Election Day
1:35 p.m. — SPA's Government and Citizenship class predicts former Vice President Biden and Senator Harris to win with 271 votes to President Donald Trump's 269.
10 p.m. — The Minnesota DFL concludes their four day-long, statewide "Get Out the Vote" tour with two "Midnight Madness" rallies, one in St. Paul (8 p.m.) and one in Minneapolis (10 p.m.). In Minneapolis, MN DFL Chairman Ken Martin was joined by Minneapolis Mayor Jacob Frey, Sens. Amy Klobuchar and Tina Smith, Attorney General Keith Ellison, Lieutenant Governor Peggy Flanagan, Rep. Ilhan Omar (D-MN5), State Auditor Julie Blaha, and other local politicians. Smith and Omar are both up for re-election. The event encouraged attendees to help increase voter turnout by picking up voter information stickers and distributing them to as many people as possible before morning.
TUESDAY, NOV. 3, 2020
Election Day
Numbers in parentheses beside a state's name represent the electoral votes held by that state. Decisions on races called by the Associated Press at the same time that the states' polls close are made based on AP data and analytics that show the state's tendency to vote for either candidate's political party will stand.
6 p.m. — Kentucky's polls close, and their eight electoral votes are called for Trump. Vermont's polls close, and their three electoral votes are carried by Biden. Polls close in Indiana, Virginia, Georgia, and South Carolina.
6:30 p.m. — West Virginia's polls close, and Trump wins the state's five electoral votes. Polls close in Ohio and North Carolina.
6:31 p.m. — Biden is declared the winner of Virginia's thirteen electoral votes because AP data and analytics show that Trump doesn't have the support of sufficient Virginians to win the state.
6:53 p.m. — South Carolina (9) is called for Trump because AP data and analysis show that Biden doesn't have the votes to win the state, despite only 3% of the expected statewide votes being tallied.
7 p.m. — Polls close in Oklahoma, Missouri, Illinois, Tennessee, Mississippi, Alabama, Florida, Pennsylvania, Maryland, New Jersey, Delaware, District of Columbia, New Hampshire, Maine, Massachusetts, Connecticut, and Rhode Island. Trump wins Alabama (9), Mississippi (6), Oklahoma (7), and Tennessee (11). Biden wins Connecticut (7), Delaware (3), Illinois (20), Maryland (10), Massachusetts (11), New Jersey (14), and Rhode Island (4).
7:30 p.m. — Polls close in Arkansas (6); the state is called for Trump.
7:48 p.m. — With 55% of votes counted statewide, Trump carries Indiana's 11 electoral votes with a 22 point lead over Biden.
8 p.m. — Polls close in Arizona, Wyoming, Colorado, New Mexico, Texas, North Dakota, South Dakota, Nebraska, Kansas, Minnesota, Louisiana, Wisconsin, Michigan, and New York. Biden wins Colorado (9), New Mexico (5), and New York (29). Trump carries Louisiana (8), North Dakota (3), South Dakota (3), and Wyoming (3).
Nebraska is one of just two states who don't have a "winner take all" electoral vote appropriation system. Instead, two electoral votes are awarded to whoever wins the statewide election, while the winner in each congressional district picks up one vote for the districts they win. Trump carries the state and the first and third districts (total of four electoral votes). Biden carries the second district (total of one electoral vote).
8:26 p.m. — With an 86 point lead over Trump, Biden wins the three electoral votes from Washington, D.C. AP analysis shows that the President doesn't have the votes to catch up.
8:45 p.m. — Kansas is called for Trump, awarding him six electoral votes. 77% of the ballots have been reported, and Trump leads Biden by seven points.
9 p.m. — Polls close in Nevada, Utah, Montana, and Iowa.
9:18 p.m. — Trump wins Missouri and their ten electoral votes with a 16 point lead and 44% of statewide votes counted.
9:50 p.m. — Biden wins New Hampshire's four electoral votes with a nine point lead. 48% of the expected votes have been counted.
10 p.m. — Polls close in Washington, Oregon, California, and Idaho. California (55), Oregon (7), and Washington (12) are called for Biden. Idaho is called for Trump.
10:06 p.m. — Leading Biden by 16 points with 65% of ballots reported, Trump carries Utah's six electoral votes.
10:55 p.m. — AP calls that Biden will win Minnesota's 10 electoral votes. They make this call because Biden leads Trump by about four points with 85% of the expected vote reported, which is equivalent to about 190,000 out of 2.3 million ballots. According to AP, "The remaining votes in Republican-leaning areas are not enough for Trump to overtake Biden's lead." Though Minnesota has been a historically solid Democratic state, it has become an unlikely battleground as the state's long-term trajectory leans Republican.
11 p.m. — Polls close in Hawaii (4), which AP calls for Biden.
11:14 p.m. — Montana and its three electoral votes are called for Trump. AP makes the call because Trump leads by nearly six points with insufficient outstanding Democratic votes for Biden to pull ahead with 56% of the expected vote already reported.
11:16 p.m. — AP calls a Trump win of Iowa's six electoral votes because he leads Biden by about 8.3 points (about 128,000 ballots) with 95% of expected ballots reported.
11:17 p.m. — Swing state Ohio's 18 electoral votes are called for Trump. AP analyzed outstanding ballots and concluded that Biden doesn't have the votes to win the state.
11:34 p.m. — AP calls Florida's 29 electoral votes for Trump. Though Biden led earlier Tuesday night, Trump ultimately carries the 2020 battleground.
11:54 p.m. — Texas' 38 electoral votes are called for Trump. Trump leads Biden by five points (626,000 votes), and the outstanding ballots aren't enough for Biden to take the lead.
WEDNESDAY, NOV. 4, 2020
Election Day 2
12 a.m. — Polls close in Alaska.
Fair Use: Bloomberg Politics YouTube
1:20 a.m. — Trump makes an address from the White House's East Room. He claims victory, saying "Frankly, we did win this election," though several key states have not yet been called. He also says "This is a fraud on the American public. This is an embarrassment to our country," and that "We will be going to the U.S. Supreme Court. We want all voting to stop. We don't want them to find any ballot at four in the morning and add them to the list, okay?"
1:36 a.m. — Biden wins Maine's statewide vote and its first congressional district, a total of three electoral votes. Trump carries the second district for one electoral vote. Like Nebraska, Maine's electoral vote appropriation is based on statewide and congressional district-based results, not "winner take all."
1:50 a.m. — AP calls that the Biden-Harris ticket will win 11 electoral votes from Arizona, home to the late Senator John McCain, because the outstanding ballots don't provide enough votes for President Trump to catch up. A surge in new residents, including Latinx people, have made it possible for Democrats to find footing in the traditionally Republican state. All eyes are on Maricopa County, which holds 60% of the state's votes and where Biden leads by 3.4%.
3:40 a.m. — Wisconsin election officials share results that give Biden the lead. Until this point, Trump held a 31,000 vote lead.
2:56 p.m. — Trump tweets: "We have claimed, for Electoral Vote purposes, the Commonwealth of Pennsylvania (which won't allow legal observers) the State of Georgia, and the State of North Carolina, each one of which has a BIG Trump lead. Additionally, we hereby claim the State of Michigan if, in fact, there was a large number of secretly dumped ballots as has been widely reported!" No candidate gets to "claim" victory in any state's election. Trump provided no evidence for his ballot dumping claim. All states mentioned by the President remain uncalled by AP.
4:56 p.m. — AP calls Michigan's 16 electoral votes for Biden and Harris after data and analytics show that Trump doesn't have enough outstanding votes to win. Biden holds a 70,000 vote lead, 1.3 points, with the remaining ballots coming from primarily Democratic areas.
THURSDAY, NOV. 5, 2020
Election Day 3
Trump holds a 30 point lead in Alaska with about 50% of expected ballots reported. The state's absentee ballot results won't be released until Nov. 10.
Clark County, Nevada, officials mistakenly report that they will release 51,000 ballots on Friday. For the first time, their ballot is two pages, explaining the miscount. The updated number to be released on Friday is about 30,000. About 190,000 votes remain to be reported statewide, though that number may include the aforementioned Clark County mistake.
Trump leads by 77,000 votes in North Carolina. There are 116,000 absentee ballots yet to be counted in addition to provisional ballots potentially reaching the thousands.
10:48 p.m. — MSNBC National Political Correspondent and resident "chartthrob" Steve Kornacki is going on his third sleepless day, tweeting: "Forget grabbing sleep, there's still votes coming in in PA. I'm heading back to the studio. In the old days, there was USA Up All Night. Tonight, it'll be MSNBC Up All Night. Come on along for the ride."
FRIDAY, NOV. 6, 2020
Election Day 4
150,000 ballots remain to be counted in Arizona, though the state has already been called for Biden.
9:49 p.m. — Biden addresses the nation from his campaign's headquarters at the Chase Center in Wilmington, DE. The address was originally planned to be an outdoor victory speech equipped with balloons and fireworks if any major media outlets called the election for Biden before 9 p.m., but since none did, he said this from inside the building: "We don't have a final declaration of victory yet, but the numbers tell us it is clear — a clear and convincing story. We are going to win this race."
SATURDAY, NOV. 7, 2020
Election Day 5
Nevada's six electoral votes are called for Biden.
9:36 a.m. Trump tweets: "I WON THIS ELECTION, BY A LOT!" Twitter flags it with the following message "Official sources may not have called the race when this was Tweeted."
10:25 a.m. — AP declares that the Biden-Harris ticket wins Biden's home state of Pennsylvania, along with their 20 electoral votes, and the presidency. Joe Biden and Kamala Harris become President-elect and Vice President-elect, respectively.
6:43 p.m. — Vice President-elect Kamala Harris takes the stage in Wilmington, DE. "Every little girl watching tonight sees that this is a country of possibilities," she says, "And to the children of our country, regardless of your gender, our country has sent you a clear message: Dream with ambition. Lead with conviction."
She introduces President-elect Joe Biden. "We embark on the work God called upon us to do," he said, "with full hearts and steady hands, with faith in America, and in each other, with love of country, a thirst for justice. Let it be the nation that we know we can be. A nation united. A nation strengthened. A nation healed."
WEDNESDAY, NOV. 11, 2020
Election Day 9
11:18 a.m. — AP calls Alaska and its three electoral votes for Trump. The state did not start counting absentee ballots until today, explaining the delay in calling a winner.
FRIDAY, NOV. 13, 2020
Election Day 11
AP calls North Carolina for Trump.
NBC and CNN call Georgia for Biden. AP holds out, saying it's still too close to call, especially with Biden's slim margin of 14,000 votes and a pending recount. According to AP, Georgia law requires the State to hand-audit one race in the general election to ensure the machines are working properly. The Secretary of State for Georgia selected the presidential race for this task, which means a full hand count of ballots is required — that hand count is still underway.
Fair Use: Guardian YouTube
Leave a Comment
About the Contributor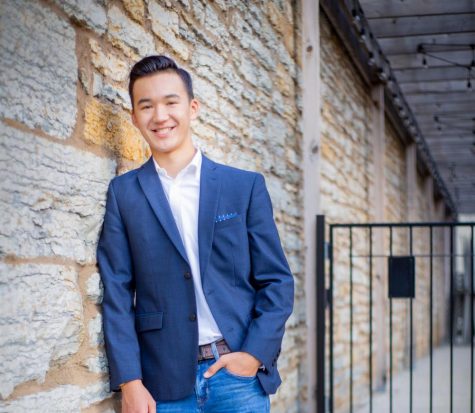 Nikolas Liepins, Political Correspondent/Contributor
Nikolas Liepins is the Political Correspondent and a writer/(photo)journalist for The Rubicon, RubicOnline, and Ibid Yearbook. This is his second year...