Delgado announces spring departure
Head of School Bryn Roberts sent out an email Nov. 6 announcing the departure of longtime former Dean of Students and current US principal Max Delgado.
"I know you join me in congratulating Max on this new and exciting step in his professional journey," Roberts wrote.
Delgado is headed to Denver, Colorado where he will be the upper school principal of Colorado Academy.
"It's bittersweet for me to think about leaving SPA because this has been my professional home for seven years and my daughter started here in kindergarten and I've developed so many deep connections in the community," Delgado said.
He and his wife have family in California and Colorado, respectively, something that influenced their move West.
"
Some of the best mentors I've ever had in my life, I have found here at SPA…some of the best people I've ever worked with, I have found here."
— Max Delgado
"We've had deep roots there. And when this opportunity came up, it fulfilled a couple of things on our family bucket list," he said. "To be able to have our daughter have an experience…out west in an area where she had family and so it just seemed like an opportunity to explore and it ended up working out."
He is excited for the period of growth that he often attributes to transitions.
"Every time I've moved it's been this monstrous learning that I've been able to undergo which has made me so much better at what I do because I get to learn about how different schools do different things," he said. " I think the way I'm excited about it is just growing professionally and personally…also not knowing yet how I can anticipate what that growth is going to look like."
Despite his excitement for this new opportunity, Delgado will be sorry to say goodbye to the people at SPA.
"I think the thing I'm going to miss the most is the connections I've made with students, and with teachers and with the administrative team," Delgado said. "Some of the best mentors I've ever had in my life, I have found here at SPA…some of the best people I've ever worked with, I have found here."
He also believes that students should not worry about the next principal of SPA.
"This school is really seen as a wonderful innovative, creative home and you are gonna have fabulous candidates," he said. " I have no doubt that you're going to be thrilled about whatever match you find for the next principal. I have no doubt about that at all and I'm super excited for that person because they're walking into a really exceptional community."
While he won't be here for it, Delgado is still excited about SPA's next chapter.
"Even though I won't be here to see it obviously, I'm excited for where SPA goes, and I'm really good at keeping in touch so I'm excited about that too."
Delgado will wrap up his seven years here with the end of the 2020-21 school year. Roberts will chair a committee to find his replacement, looking first at internal candidates and potentially expanding the search to the national and international level.
About the Contributor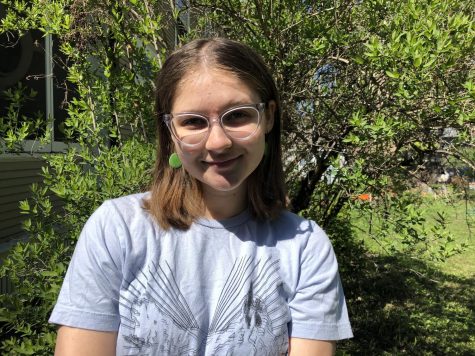 Lucy Benson, The Rubicon Editor-in-Chief
Lucy is the Editor-in-Chief on The Rubicon. This is her fourth year on staff. While following the stay-in-place order Lucy is listening to a lot of music,...