Community Action Service changes holiday giving format
An annual tradition, donating gifts to Support-A-Family, is going through a holiday makeover. Community Action Service club had to think on their feet when informed that People for Pride in Living, the organization to host Support-A-Family, was changing the format of the donation.
"This year, they decided that instead of doing family wish lists and gifts, they were going to do gift cards," club advisor Mollie Ward said.
While raising money for gift cards was an option, the members of CAS didn't want to lose the community aspect of the winter service opportunity.
"Part of the fun was buying gifts, and part of the fun was the wrapping party," said Ward.
However, finding another organization that accepted wrapped gifts proved difficult, since many organizations collecting toys want to give parents the option to pick and wrap the gifts themselves. After some research, the CAS leaders came across two new organizations that would replace Support-A-Family in new ways, but with the same important elements.
The first is organization My Very Own Bed, which CAS co-president Ellie Nowakowski came into contact with earlier in the year.
"Their aim is to provide children and teens with beds, especially focused on those coming out of homelessness," she said.
Advisories will raise money to help My Very Own Bed purchase "dream kits": blankets, bed sheets, and stuffed animals. To replace the excitement of the wrapping party, CAS decided to do a blanket-tying party, both to help donate more to My Very Own Bed, and "come together as a community."
"This weekend, I bought one hundred and sixty yards of polar fleece," Ward said.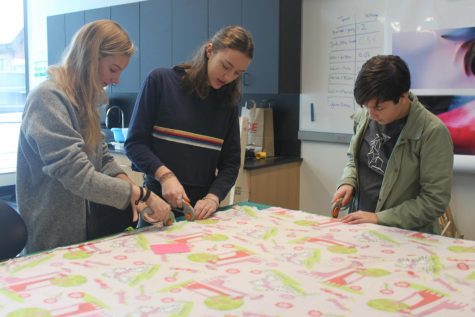 To replace the joy of buying toys, CAS also is partnering with the Hallie Q. Brown Community Center to donate unwrapped toys to their holiday gift store. While it won't be the same as wrapping the toys on family wish lists, Ward believes that buying the toys will still give people the same warm, fuzzy feeling.
So far, thirty-six advisories have signed up to participate in holiday giving, and most advisories are choosing to donate their money and time to both organizations.