Upper School renovations lead to detours and closed spaces
What's behind the plastic curtain? This is the question that comes to mind as students navigate around blocked off construction zones in Old Main. The answer? As Upper School Principal Mr. Delgado puts it:
"Refreshing and expanding."
Throughout the four stories of Old Main, connected by an elevator, the building gets a new look to make room for the humanities. History and English classrooms will be expanded, adding tables for breakout groups, in addition to Harkness.
More space is not the only change coming to Old Main classrooms: like those in the Schilling Center, Old Main classrooms will also now host lockers. There has been some pushback from the student body regarding this change, but Delgado explains the decision.
"Those are all going to become little sort of inlets where there will be study spaces available," Delgado said.
Not only will English and History see new changes but Debate and Wellness will resume living in Old Main after construction, both with expanded spaces as well. The offices on third and fourth floor will be replaced with classrooms. For example, the former US Principal office will find new life as a history classroom. The fourth floor will remain the Center for Learning and Teaching but will no longer have English offices, while Wellness will relocate to the first floor.
Delgado explains the changes are not just cosmetic: "The shift that's been happening over the last several generations is that we're moving more and more intentionally in creating classroom spaces where we can really encourage students to collaborate, to discuss, and to work on projects together."  
He said the renovations help to realize this, but not without the teachers.
"As far as teaching is concerned, we've been in a really good place and we continue to be in a really good place…I think what the renovations of the building our doing is helping us: helping our space catch up with our teaching practices," Delgado said.
He believes the changes will help the school continue to evolve and align with SPA's values.
"I think one of the things that's really exciting about where we're at as a school community right now is that our classes have changed enough over the years and teachers are have adapted their courses to the point where more space is helpful."
If all goes smoothly Old Main is set to open by MEA weekend, ending Monday October 22.
After Old Main has been finished, work will begin on the Thompson wing, previously the home of math and science classes, currently housing history. One hallway will be blocked off at a time, with the other open for the SPA community's transportation needs. Thompson wing renovations will be over in March.
Finally, a major renovation of the library has been planned, but not scheduled. The new space will integrate more social and study spaces for students, putting in order two uses of the library that often come into conflict. The renovation has not been scheduled yet due to a lack of allocated funds. However, in the coming years, it might be the icing on the brand new SPA cake.
Leave a Comment
About the Contributors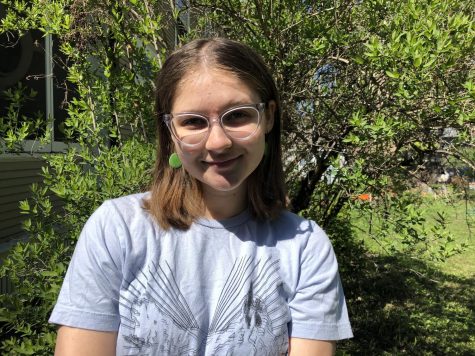 Lucy Benson, The Rubicon Editor-in-Chief
Lucy is the Editor-in-Chief on The Rubicon. This is her fourth year on staff. While following the stay-in-place order Lucy is listening to a lot of music,...
Will Rinkoff, Opinions Editor
Will Rinkoff is a co-editor of RubicOnline's Opinions section and writes the column "In the Weeds." This is his second year on staff. He enjoys exploring...